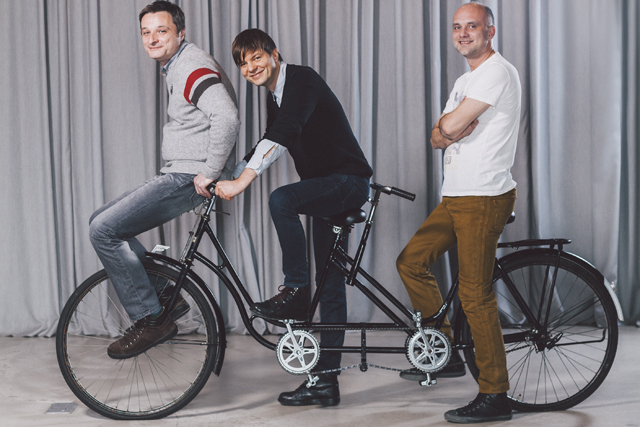 The biggest challenge advertising has always faced is how to explain to people who do not work in advertising what exactly advertising is. What precisely are we doing here? Today, in these times obsessed with big data and complicated advertising planning tools, we leave it to such things as metrics and research to explain - and that makes it harder than ever. It almost sounds like science!
Let's take a look, for instance, at an average advertising project today. It can easily be the case that more than 50 per cent of the time spent developing a new ad campaign is taken up by pre-research, focus groups, and idea and concept testing. All the information generated by this research is continuously fed, live, to the creative teams working on the project. So the creative teams constantly have to juggle their own ideas, plus research data and insights, simultaneously. It makes the process of creating an ad campaign look like a real-time sandbox online game in which, at any moment, the whole story can go off in a completely different direction. It's hard to stay focused.
Sometimes it can seem that a random person at a focus group whom you don't even know by name can have more influence on a creative concept than the agency responsible for its development. Is this the way it should be? Should people who are not emotionally connected with a project in any way be taken so seriously? One SlideShare presentation explained this very well: at focus groups, no-one is in a hurry, no-one is hungry and everybody gets paid. So what makes focus groups relevant in the assessment of, let's say, a fast-food ad concept?
The issue here is not a question of whether we should or shouldn't do our research. We all know we should. Of course, focus groups and research are important. The campaigns are created for the people who participate in research. It is they who will like, or dislike, the ads we create. People in research groups and the purchases they make will determine whether the campaign is profitable.
The issue here is whether advertisers should rely more on the live data that is completely unpredictable, or on their gut feelings.
Gut feelings are important! Ultimately, the logo or the product's functional benefits will not generate an emotional response - our work will. And never forget that a brand is nothing more than a collection of people's gut feelings about a product or service. For this reason, gut feelings should be the main focus of any research. Research should be designed in such a way that it reveals consumer gut feelings about a product or service. The rest of the campaign's development should be all about a gut feeling of advertising experts. The best example of this is the story of Apple's "1984" ad, which introduced the Mac to US consumers. A focus group rated it the worst ever. Without Jobs' gut feeling, the ad - which went on to become a legend - would never have been aired.
'we always aim to align ourselves with consumers' gut feelings'
Bruketa & Zinic OM has developed as an agency in such a way. We always put our gut feelings at the centre of all that we do. This was partly conditioned by the environment in which we operated: because of financial constraints, Croatian brands regularly think three times before conducting any research. Often, this left us on our own as an agency.
In time, we developed a unique instinct for quick and efficient insight digging; that is, digging for consumer insights. In our process of creative development, we always aim to align ourselves with consumers' gut feelings. To us, this is key to developing efficient campaigns. In 2012, we were the second-most-efficient independent ad agency in the world, according to the Effie Effectiveness Index. So we must be doing something right.
Advertising should consider getting back to basics and applying good judgment where needed. Generally, advertising is efficient when a target audience is exposed to a message that resonates with them. And this is all advertising should ever be: a sustained process that makes relevant messages resonate with relevant targets, resulting in a positive gut feeling. We don't need anything more complicated than this - it's complicated enough!
---
Davor Bruketa, Nikola Zinic and Sinisa Waldinger are the creative directors at Bruketa & Zinic OM