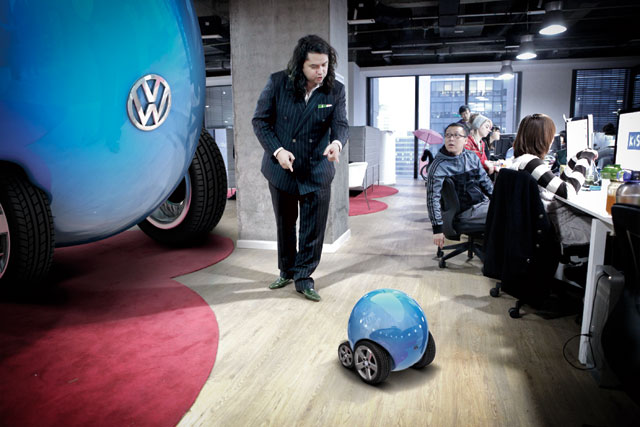 A friend of mine recently sent me three pictures, so-called memes, via Facebook. There is a picture of a granny who claps her hands in utter happiness. Granny says: "Cool! A banner ad!" Another meme: we see three friends on a sofa watching something on TV, cheering and waving. They shout: "This new brand positioning changes everything!" The third picture is of a middle-aged man in a serious thinker pose. He says: "I wonder if my favourite brand of toilet paper has a Twitter stream I can follow." These all tell the story of the disconnection between advertisers and consumers today and the reason we have stopped making ads at Goodstein as they used to be.
Here is an idea for a film I want to shoot that explains to my clients how consumers react to their advertising. We open in the living room of the Smith family. Father Smith is watching a football game on TV, mother Smith is reading a magazine on her iPad, daughter Smith is in her room, texting a friend on her smartphone, and the son plays a gory video game on his PlayStation. Suddenly, all hell breaks loose. A Swat commando team swarms into the house, through windows and doors, armed with an arsenal of weapons. At gunpoint they shove various products into the faces of the Smith family - beers, cars, appliances, financial products. This is all precisely timed and, after 30 seconds, the commandos pull out of the house to repeat the same action at the Walters family next door.
The point of the story: every member of the Smith family is emerged in a story of their choosing. Movies, TV shows, games, sporting events and politics unfold in front of them as narratives. What advertisers do and what they have always done is intrude into these stories and take their consumers' time hostage. This is a universal flaw of our business, no matter if it is the Smith family in the West or family Wang in China, the place where I write these lines right now.
In the past, working for big advertising networks, I found myself often in the role of a hostage negotiator rather than a creative director and, when I made the decision to found Goodstein in 2010, my partners and I swore to only create stories, not intrude into them. Stories that are relevant to people's lives. Stories that they can't help but share. Stories that make brands famous.
'Our writers don't write advertising copy but screenplays for movies; strategists rub shoulders with innovators'
To create this kind of story, you need a different kind of skillset. Today, I find myself more in the role of a film director. Our writers don't write advertising copy but screenplays for movies; strategists rub shoulders with innovators; the art directors create film sets, not Photoshop layouts; and our suits have become producers.
The "people's car project" for Volkswagen, which we first created three years ago, is testament to these beliefs. Instead of creating ads for new car launches, we asked ourselves if there was a different way to start a dialogue with consumers, one that spans a much longer timeframe than the typical campaign period. In three years, we have engaged with 30 million consumers by simply asking them what kind of car they want.
Together with them, we have created a car from the ground up - it was the biggest crowd-sourced product to date, and the first car ever created by the people, for the people. We democratised product innovation and have created an always-entertaining story universe that makes people come back for more.
All this, of course, is completely irrelevant if it doesn't sell. We have developed a framework that shows how content has to be distributed in paid, earned and owned media channels. At peak times of the programme, Volkswagen was perceived as innovative by 70 per cent of consumers and purchase intent rose by 262 per cent, results unheard of by any of the competitor brands.
The finale of the programme, a ten-episode online series, brought us the first ever gold at Cannes for a China-based agency in the Branded Entertainment category. Today, we are the most-awarded independent creative company in China.
We have chosen China as a home base for Goodstein because there is no imprint of what adverting has to be. Here, clients and brands are more open to innovative ideas. This does not limit us to operate only in the Chinese market. We have just wrapped the production for an online short film for Huawei's European market. Our client Newsun, a Guangzhou-based agency, chose us to direct and produce the film because it trusted us to understand Chinese needs and European sensibility, a working model we hope to repeat in the future.
---
Georg Warga is the creative director and founder of Goodstein