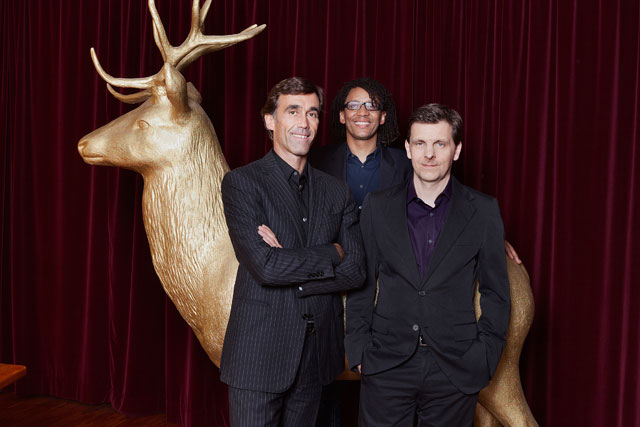 Advertising is full of campaigns that showcase great ideas. But for a campaign to be worth the money, it has to get people talking. How? After all, people have a lot of distractions. The answer: copy the great movie studios. Then go one better: create a good story; then put your audience in it.
The storytelling
Infinity ... Forget B2C. The future is B2C2B2C, and so on: round-the-clock communication, in an endless loop. Clients may still think short-term, in campaigns and innovation cycles, but the public wants an ongoing relationship. For a campaign to make an impact in 2014, it has to communicate with the target group 24/7, in a flexible, involving and interactive way.
... and beyond So get your clients to change their thinking. Explain modern social dynamics to institutions, so they can shape them. Help brands see themselves as mass media and to become more interesting by constantly developing new campaigns, discussions and topics ad infinitum.
Don't tell toy stories... Five years ago, storytelling was already central to campaigning: the right story in the right place at the right time. Now social media means we have to tell the story in a more dynamic - and more relevant - way.
... build real ones In 2014, good campaigning means storybuilding. Opening up the brand to a dialogue and moving on to genuine customer participation. Allowing the customer's own ideas, opinions and desires to form part of the story.
Let go If consumers help write a story and play a part themselves, the narrative automatically becomes their own. Of course, both agency and brand lose a degree of control, but they gain honesty and transparency in return. The result is authenticity - and lasting emotional bonding.
My brand. My story By opening up to the customer like this, the brand story grows in size. More importantly, it grows in relevance to the individual. The brand is no longer just telling any old story. Because the consumers help to shape it, it becomes their personal property. My brand, my company, my party, my club. And my story.
'More than half our staff are digital natives or have a digital background'
The Hirschen formula
So far, so promising. But to change the way your clients think, you also have to get your own house in order. For the Hirschen Group (and its agencies Zum goldenen Hirschen, Freunde des Hauses and ressourcenmangel), that meant a new recruitment strategy. As a result, more than half our staff are now digital natives or have a digital background. Here are some other to-dos that helped get the job done:
Be diverse We can all make smalltalk, but sustaining an endless conversation is a whole new challenge. No matter how talented your staff, old team structures aren't going to cut it. Strategist, account manager, a bunch of creatives? If that's your line-up, you're in trouble already. Your team needs a much broader skillset. Entrepreneurs, artists, bloggers, conceptors and politicians; PR experts, seeding specialists, and many, many more.
Be stimulating A great campaign puts the focus on issues that really interest people. It delivers intelligent dramaturgy and relevant content on a contemporary communication platform. This generates added value far beyond the communications themselves.
Be creative This goes for the way you interact with your client, too. It's not all about channels and content. It's about new business solutions, even new products. And for "new", read creative.
Be systematic Systemise creativity at every level of the process, not just in the deliverable. Thinking creatively is a crucial part of the intelligent groundwork that precedes and accompanies every project. Use that diverse team to dig deeper and really understand your client's business. Detect needs they might have missed.
Be democratic Look your client in the eye, tell them straight and learn to say no (they love us for that). Internally, make strategic analysis, "target group" definition and brand planning part of every creative process. Listen to everyone and give them all equal status.
Be brave If you're thinking this is going to make marketing and communicating a lot more demanding, you'd be right. But we've found the tools are already out there. No matter how fast technology moves, how unpredictable and complex the times, challenges like these have always been the best drivers of new products, markets and ideas; in other words, of creativity.
The pay-off
For the Hirschen Group, this new approach seems to be working. We were named Agency of the Year 2009 by New Business magazine, while the German trade journal Handelsblatt ranked us one of the best and most creative agencies in the country. At the last count we were Germany's fifth-largest owner-run agency, having gone from a three-man back office to a premium location on Hamburg's Alster Lake (think London's Park Lane) in just ten years.
Our strategy for 2015? Keep refining the Hirschen formula: bring together the most talented people, evolve the most up-to-date philosophy, campaign with maximum digital intelligence, and devise the very best game plans for our clients.
---
Marcel Loko is the co-founder and chief creative officer of the Hirschen Group