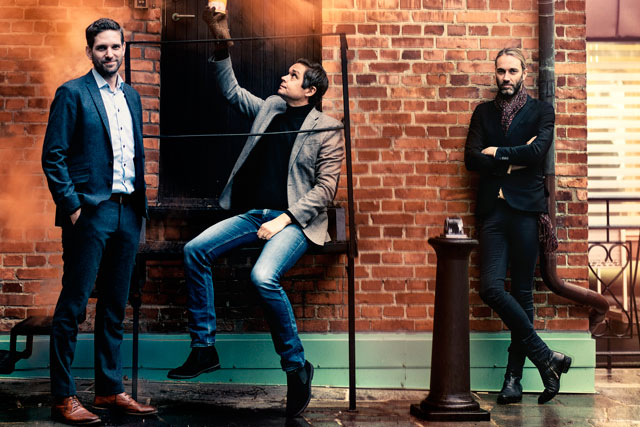 Imagine Florence in the 1400s, a bustling city of wealth, influence and culture. Famous families like the House of Medici are at the heart of a new era of finance and ever-expanding trade with markets in Asia and Europe. They also spend a sizeable chunk of their treasure supporting creative talents and inquisitive minds. For many artists, philosophers, inventors and anyone else in pursuit of knowledge and expression, life could not be better. Yes, the Italian Renaissance is in full swing. Business, science and the arts thrive in an empowering, symbiotic relationship. It's a time of exploration, discovery and creativity; of humanism and technology; and a holistic approach to the world around us ...
Of course, this is a highly simplified and romanticised view of the time, but there are similarities with today's communication challenges and the opportunities they present. For instance, system architects, data integration specialists and mobile and web application developers have been seen as a breed apart from adland; people who had nothing to do with the creativity of a traditional advertising agency. Similarly, art directors, copywriters, strategists and planners were seen by the technologists as old-school: dusty poets and dreamers. No surprise, then, that these two groups were kept apart and specialist agencies began to pop up. We saw things differently as technology grew in importance over the past decade.
And times are changing. Clients are demanding more integration - and rightly so.
A brand new world
So, the time has come for a truly interdisciplinary approach to brand communication; it is produced both by and for people. At Stendahls, we've been preparing for this for quite a few years, and now we're taking it to the next level. Our focus is on enlightened creativity, where creative technologists and artists work together in perfect harmony. After all, communication is neither a science, nor an art: it's both. It requires a clear objective, and a holistic approach to achieving it. As we see it, we have to be more client-focused and client-driven than ever before. Agencies typically define their offer based on available resources - instead of what clients actually need or are asking for.
So what are they asking for? They want an agency that sees opportunities where others see obstacles or threats. A full-service agency that lives up to the promise of full service - with the right breadth, depth, knowledge and experience available at every stage. An agency that is committed to ensuring consistent and effective brand communication across markets and media. Simply put, they are looking for an agency that can help keep their brand at the forefront in an ever-changing world.
At the same time, people are getting tired of traditional advertising, and the younger generation will probably be immune to it altogether. We have to be smart - smarter than ever. A brand is so much more than core values and graphic guidelines. It's more than features and benefits. The "story" is increasingly important. When it is done right, storytelling can open new perspectives, change mindsets, engage and inspire.
New technologies and new media are also making it possible to come closer to each customer or prospect and his or her reality. Communication can now help tailor the customer experience - personalise it, make it more human and more relevant. The goal is to create the optimum conditions for dialogue on the front line, where it matters most. At the end of the day, this is the key to building relationships and long-term loyalty.
A Swedish perspective
When you think about it, Sweden is an ideal place for this new, holistic approach. It's a somewhat remote country characterised by harsh, varied weather and a strong heritage of continuously looking for better ways of doing things. Asking "What if?" comes naturally. With a population of just nine million, Sweden continues to make its mark in everything from music and design to gaming and technological innovation across industries. Skype and Spotify, for example, have their roots here. Not to mention global brands such as Ikea, H&M and Volvo.
We are based in Goteborg, a harbour city with plenty of industrial pride, and home to leading universities, research institutions and a vibrant music and arts scene. Nature is never far away. Perhaps, most of all, our clients have their global headquarters here.
The House of Stendahls
Our office is spread out over five floors in a neo-classical building. Under one roof, you will find everything that should be expected from a full-service agency. But, again, it's the people who deliver these services - and how they work together - that matter most for our clients. This is why we are always looking to attract the best of the best. People who are, or who have the potential to be, experts in their area - but who can also contribute far beyond the conventional boundaries of their role: true renaissance women and men who are eager to embrace a new era of enlightened creativity with open arms and open minds.
This is our vision of a truly client-focused, full-service agency - and we're getting closer every day.
---
Henrik Segergren is the chief executive and partner, Peter Johansson is a key account manager and partner, and Andreas Gunberg is a key account manager and partner at Stendahls