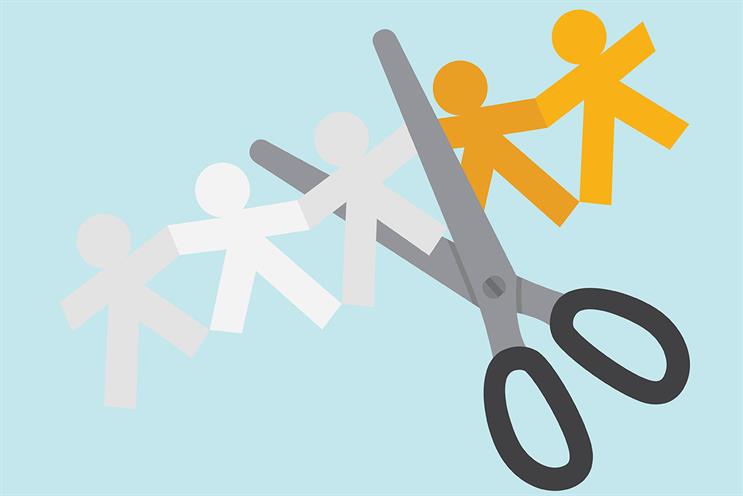 There is a deepening chill in the adland air.
A first shiver was detected on London's South Bank last week, where Ogilvy – punch-drunk from a mass defection of its senior leadership over the past few months – offered all 1,200 UK staff voluntary redundancy. Then, only two days later, that same cool breeze had blown up to Great Portland Street, where Engine revealed all employees had been entered into a "consultation exercise".
In both instances, the management would point to restructures that have seen agencies brands retired in favour of a newly integrated model. However, with expectations of further agency mergers – notably at WPP, which, in light of its disappointing third-quarter results, has suspended recruitment until the new year – the autumnal chill may soon transform into an icier freeze, especially with Brexit around the corner.
The IPA's latest Bellwether Report found marketers at their most downbeat about financial prospects for their companies and the wider industry in six years. The state-of-the-nation study, for the third quarter, also revealed marketing budget growth weakening to the slowest rate in three years, with market research and direct marketing spend dropping significantly.
Veteran media and advertising analyst Lorna Tilbian has been predicting a downturn since earlier this year, a warning she repeated at last week's Campaign Breakfast Briefing – and she offers further insights into her view of the market here.
So how worried should the ad industry be about prospects for the UK economy in 2019? Is it time to sound the alarm or are we merely experiencing a cold snap before a thawing in the near future?
Lorna Tilbian
Former head of media, Numis Securities
If you believe the stock market is a forward-looking indicator, the answer is moderately. The markets have already experienced two tremors this year (in February and October) before the inevitable earthquake, which will mark the end of the longest bull market in history and herald the next recession. This longest (and most unloved) bull run began in March 2009, when interest rates hit rock bottom both sides of the pond – at 0.5% in the UK and 0.25% in the US, the lowest in human history – and all assets from property to commodities and bonds to equities inflated commensurately. As interest rates rise, the converse will happen – markets will fall, assets will deflate, business investment will be curtailed and investors will take shelter in safe havens with risk-free returns as recession unfolds.
The $64m dollar question is: when will this happen? Who knows. In the absence of a crystal ball, a history book would suggest some time next year – about 18 months from the first market rout at the beginning of this year – and with a recession the following year. The dotcom boom peaked in March 2000, but it took until September 2001 for the music to stop. Similarly, the sub-prime debt-fuelled market peaked in spring 2007 before cratering with Lehman Brothers in September 2008. On both occasions, recession followed in the next year, in 2002 and 2009 respectively. By which time, of course, the market was foretelling the next recovery, rallying strongly in 2003 and 2010.
Alex DeGroote
Founder, DeGroote Consulting
The outlook for the UK ad sector in 2019 is unusually opaque, which casts a shadow over agency land. Why? Three factors.
One, Brexit. Frankly, who knows how this will play, but it will impact UK corporate budgets. Two, WPP. The UK's largest agency group is undergoing massive emergency restructuring, which will reverberate throughout the industry. Three, client in-housing. It is almost a cliché but, across all sectors, many clients are beefing up headcount internally at the expense of agencies. Account management functions are particularly at risk.
The UK is the fourth-largest ad market globally but 2019 is likely to see local growth below the other major markets. This in turn also mirrors the anaemic outlook for UK GDP growth, which is forecast at around 1% for 2019.
Cilla Snowball
Outgoing group chairman and group chief executive, Abbott Mead Vickers BBDO
If we secure a good outcome from the Brexit negotiations and a business-friendly immigration policy, we can hope to see both in-market growth and export success for UK advertising. A big if, obviously, but we shouldn't forget we operate in a growing market now and UK advertising has grown ahead of expectations in each of the last four quarters. According to AA/Warc figures, adspend could exceed £24bn next year.
Great advertising is an economic multiplier. Countless brilliant clients and IPA/Warc effectiveness studies have proved it. Clearly, the economic and political environment is bumpy and will bring challenges and uncertainty, but great advertising provides the certainty of a vital and proven growth lever.
Fran Danczak
Head of communications, Stitch
The structure and nature of work will continue to change in 2019, which will see the market for freelancers continue to boom. So the prospects for individuals are good. Done right, this change should also be a really exciting opportunity for agencies – an opportunity to embrace the potential for pulling in specialist opinions and viewpoints as needed, allowing for a more diverse, insightful and culturally nuanced industry.
What companies will have to do, however, is start viewing their freelance workforce not as a stop gap, but as an integral part of their team and way of working. They must re-evaluate how they interact with and manage this network. One potential area for concern to larger agencies arose in last week's budget in the clampdown on "disguised employees". This could put an end to hiring long-term freelance cover, on which some agencies have become reliant.
Mark Stringer
Founder, Pretty Green
I naively thought that our politicians and civil servants wouldn't allow the UK economy (second-largest in Europe, fifth in the world) to implode and fall off a cliff. But they believe in some kind of chaos theory – or it's all just an episode of Black Mirror.
I hoped that business and industrialists would bang a few heads together and break the impasse. But my naïve optimism appears to be misplaced as each day passes. In life, the difference between success and failure is often confidence, and confidence comes from having some certainty and control. Currently, no-one can give us any certainty, and we have no control.
Therefore, what are UK businesses doing? Nothing. They are holding back investment decisions and slowing down the economy in virtually every sector. Hard Brexit, soft Brexit, no Brexit – honestly, it doesn't matter. It's a distraction from the job we're all meant to be doing.
We've an inbuilt resilience and we're hard-wired to survive, but someone just needs to tell us what the situation is so we can move on and rebuild the confidence in the economy. When that happens, it will be like Y2K and we'll wonder what all the fuss was about.