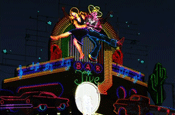 The agency will launch in May with three as-yet-undis­closed clients. Pablo Minces, Santo's creative director, will relocate to London to head the office with Martin Cole, a former WPP consultant.
WPP owns a minority stake in Santo, as it does in a number of creative hotshops including Johannes Leonardo in New York, Monday in Bangkok and La Negra in Argentina.
Santo was founded in 2005 by Maximiliano Anselmo and Seba Wilhelm, the former cre­ative partner of Fallon's Juan Cabral.
Both will have major­ity ownership in the London office, but will continue to be based in South America.
Santo is one of Argentina's top creative agencies. It creat­ed the Cannes-awarded "neon girl" spot for Unilever's Lux, which was directed by Danny Kleinman, and its viral ads for Arnet Broadband won a silver Lion at last year's Cannes.
Cole said Santo's decision to launch in London was also driven by interest in Argen­tinian creativity. He said: "I hope we can continue to be known for optimistic, visual and populist work.
"That's the Argentinian pixie dust."