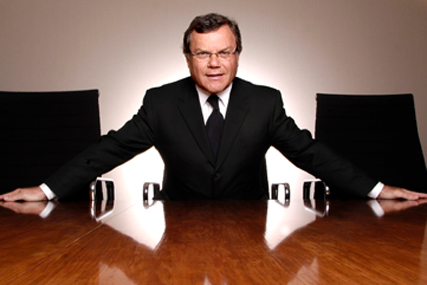 Speaking at the International Advertising Association conference in Moscow, WPP chief executive Sir Martin Sorrell said the group had experienced "a significant change in April", resulting in him "starting to see for the first time growth in [the] business on a worldwide basis".
Last month, Sorrell upped the forecast of WPP from flat to 2% growth for the year following three months of stabilisation, despite revenues being down 1.82% to £2.1bn in the first quarter of this year.
However, the results also showed WPP's specialist digital companies, including 24/7 Real Media, Schematic, Blue Group and Quasar, showing like-for-like growth of more than 9%.
With digital marketing one of the big drivers for revenue growth for the business, WPP has today announced it has acquired two leading Brazilian digital agencies Midia Digital and I-Cherry for an undisclosed sum.
The acquisitions form part of WPP's overall strategy to expand its capabilities in the digital, direct and interactive disciplines.
It also aims to strengthen its presence in faster growing markets like Brazil and the overall Latin American region, the company said.
The agencies specialising in digital marketing and search marketing were both founded in 1995.
Revenues of Midia Digital and I-Cherry for the year ended 31 December 2009 were $5.3 million, with gross assets at the same date of $1.5 million.
Based in Curitiba and Sao Paolo, Midia Digital employs 91 people with clients including HSBC, O Globo, Porto Seguro, J&J, Magazine Luiza and Tecnisa. I-Cherry employs 34 people and clients include Petrobras, Lopes, Terra, Macht.com and Guia Mais.