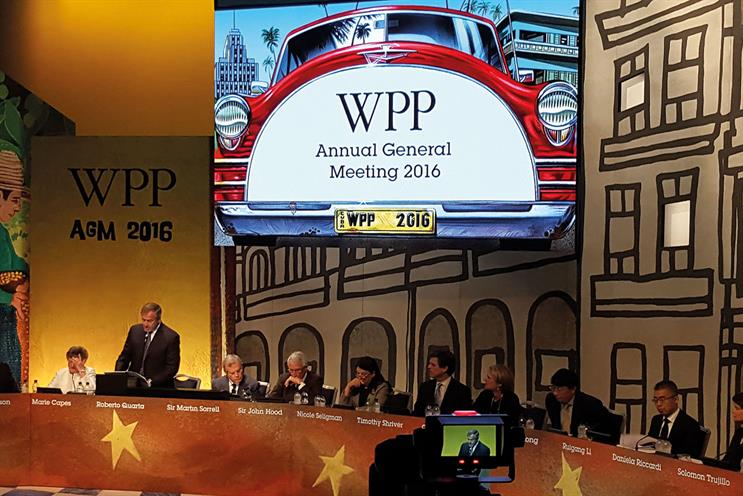 Insiders say Quarta, who was dubbed "Bob The Knife" and "Give No Quarta" because of his ruthless approach during his days running industrial companies, is taking a more hands-on approach to succession planning than Philip Lader, a former US diplomat, who he replaced as chairman last year.
Quarta faced more than an hour of questions at last week's AGM, where one-third of shareholders voted against Sorrell's £70m package in the worst revolt at the company since 2012. There were more questions than in previous years about succession from several big City institutions, which rarely choose to speak out in public.
Euan Stirling, head of stewardship at Standard Life, said better succession planning would "improve the risk profile" of WPP. He suggested that if the company were less reliant on Sorrell, it could afford to pay less to a chief executive.
Hans-Christoph Hirt, executive director of Hermes EOS, another top shareholder, welcomed how "succession risk has risen up the company's agenda" in the past 18 months but asked Quarta to "enhance" disclosure.
Quarta said it was "ludicrous" to suggest WPP had not been adequately prepared "before I came" but admitted that shareholders had asked him for "more reassurance" about succession "whether planned or unplanned". He promised "further dialogue over the coming months".
Quarta said WPP directors discussed talent management at every board meeting and the company carries out "a continuous and constant assessment of individuals both internally and externally" not only for the role of chief executive but also for more than 100 other senior positions.
Sorrell said: "The fact that it's not played out in the pages of Campaign doesn't mean that something doesn't happen."
WPP has planned three scenarios for the chief executive's succession – "immediate decapitation; after two or three years; and after five years," Sorrell said, adding: "The candidates for all of the top 150 positions are already in place."
Sorrell retained the overwhelming support of shareholders, with 99.97% backing his re-election. He said: "I've said I'll carry on until they cart me out to the glue factory." Quarta added: "There is no set timeframe for CEO succession."
Sorrell defended his £70m pay package, including a £63m long-term bonus, and suggested he was "unique" because he had built the group from scratch since 1985 and kept reinvesting his earnings in WPP stock.
"This is not johnny-come-lately," he said. "If there is something wrong with building a company from two people to 194,000 people – with something like, I could argue, 600,000 people depending on their livelihood on WPP and its success – then mea culpa."
Sorrell will earn a lower bonus next year because he pledged fewer shares in a co-investment plan.