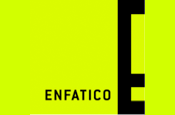 The venture's first project will be to handle Dell's consolidated marketing services needs, but it will look to take on new clients.

Ken Segall, Enfatico's global chief creative officer, drove the naming process from within
the agency. He said: "We believe Enfatico will become synonymous with a new standard for integrated marketing, insightful creativity, and collaboration in the client-agency relationship."

The agency has already employed around 600 staff across the world, and hired a senior management team led by US-based Turrence Boone.

Enfatico had been dubbed Project Da Vinci until the name was announced today.

The company is expected to open a UK office within weeks.