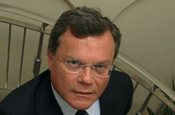 In an e-mail to senior staff and seen by Campaign, the group, whose agency empire includes JWT, Ogilvy & Mather, Young & Rubicam and Grey, cites clients' decisions to hold back on marketing spend as the reason for its action.

The group, which is led by chief executive Sir Martin Sorrell, has ordered that any job offers made but not accepted must be withdrawn immediately.

It is also banning its operating companies from using headhunters and has told managers to get a firm grip on the employment of freelancers and temporary staff.

And it has pledged to crack down on any operating company caught trying to poach staff from another.

The freeze, which will not be reappraised until after next February's budget reviews, applies to all staff regardless of salary or role and includes replacement hires and open positions.

In its e-mail, the group points to what it says has been a dramatic change in government and consumer sentiment in the past few weeks. "Preliminary results for September show another month in which even our recently prepared forecasts for revenues have not been achieved," it says.

It goes on to point out that although operating companies were told in January to be careful about incurring additional staff costs, the headcount growth since August had exceeded revenue growth "by a significant factor".

While growth in Asia and Latin America had been strong so far, the group warns that "even some of these markets now are feeling a dramatic change in fortunes".

It adds: "We have noted that even in companies where there has been overall reduction in staffing, we have incurred a very significant cost in terms of recruitment agencies and/or freelancers."

It warns that "freelance and temporary staff continue to be a poorly controlled cost in many of our companies" and tells chief financial officers that they must take full responsibility for the approval of all new and existing freelancers.