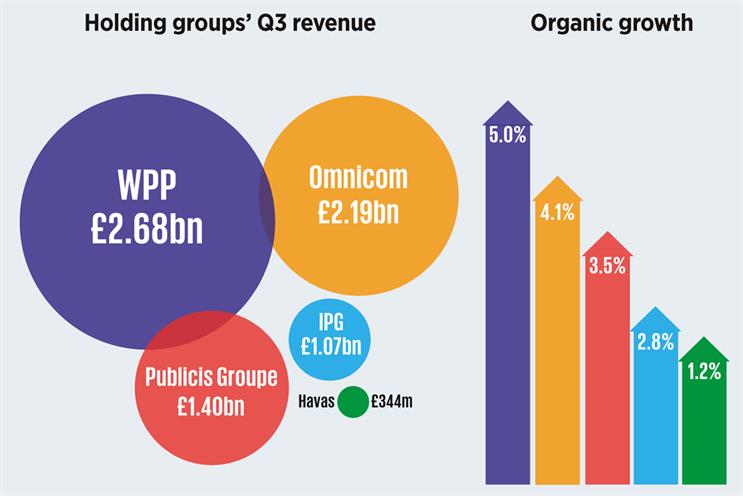 Of the major marketing holding groups, organic revenue growth was strongest at WPP, followed by Omnicom (4.1 per cent) and Publicis Groupe (3.5 per cent).
Havas reported revenues of €411 million in the third quarter, a decline of 4.0 per cent from a year earlier.
Excluding the negative effect of exchange rates, Havas posted organic revenue growth of 1.2 per cent.
Interpublic posted organic revenue growth of 2.8 per cent, an improvement on the 2.2 per cent increase reported in the first half.
Lorna Tilbian, the executive director and head of media at Numis Securities, said: "WPP produced chart-topping Q3 results, with organic revenue growth of 5 per cent, well beyond market expectations of 3.4 per cent and its global peer group.
"Interestingly, an acceleration in growth in the developed markets highlighted the UK as the poster child of Western economic growth, with the US, the UK and Europe more than offsetting a slight deceleration in the rest of the world."
Both Omnicom and IPG reported declines in pre-tax profit in the third quarter. Omnicom posted pre-tax profit of $336.6 million, a fall of 3 per cent, while IPG's was $147.9 million, down 4.6 per cent.
WPP, Publicis Groupe and Havas do not disclose profit figures for the third quarter.