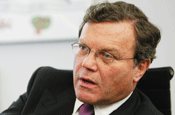 Billings rose by more than 16 per cent to £36.9 billion, while revenue grew almost 21 per cent to £7.5 billion.

However, the group's headline operating margin of 15 per cent fell just short of its 15.3 per cent target. And it said it expected this figure to remain flat at 14.3 per cent during the current year.

At the same time the group, which has a hiring freeze in place, revealed that it had cut back on incentive payments to staff, including the cost of share-based compensation, This totalled £213.8 million in 2008 compared with £230.7 million the previous year.

The group said 2008 had been a year of contrasting halves, beginning with organic revenues that grew at more than 4 per cent. However the second half was significantly slower with organic growth of around 1 per cent.

North America continued to provide the lion's share of the group's operating profit (almost 40 per cent) while the UK contributed just over 12 per cent. PR and public affairs emerged as the group's fastest growing divisions while branding and identity, healthcare and specialist communications were the slowest.

Nevertheless, the group remained bullish about the long-term future of marketing communications. Technology developments, the growing importance of internal communications and the new focus on corporate responsibility issues would underpin the need for clients to continue to differentiate their products and services, it said.