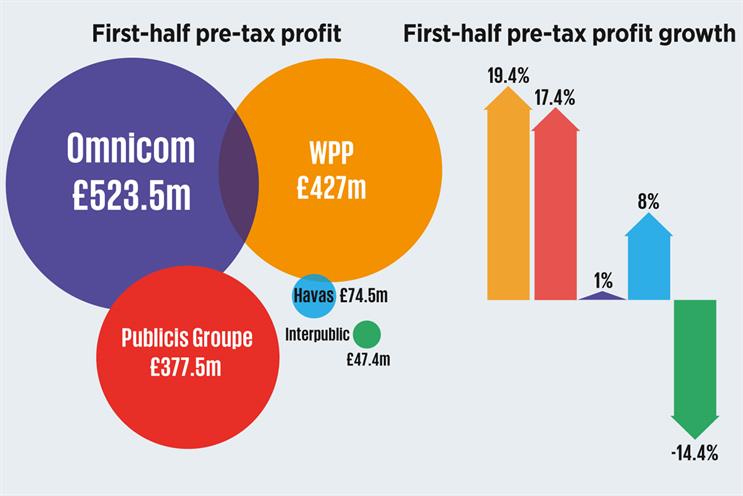 According to results released last week, WPP made pre-tax profits of £427 million, up 19.4 per cent year on year. In July, Publicis reported pre-tax profit growth of 17.4 per cent to €446 million (£377.5 million).
Both companies attribute the growth to investment in digital and the fast-growing markets of South America and Asia.
Sir Martin Sorrell, the chief executive of WPP, told Campaign: "Our performance was led geographically by Asia-Pacific, Latin America, Africa and the Middle East, and Central and Eastern Europe, and improved performance in the US and the UK.
"Functionally, it was led by media investment management and digital. Hopefully, it will continue."
Ian Whittaker, the head of European media equity research at Liberum Capital, said Publicis' results had beaten expectations, while WPP's indication that like-for-like revenue was up 5 per cent in July had cheered investors.
Omnicom reported first-half pre-tax profits of £523.5 million, up just 1 per cent.
In the second quarter, Publicis reported the strongest revenue growth at 9.6 per cent year on year to €1.79 billion. WPP posted revenue of £2.8 billion, up 8.3 per cent.
Omnicom and Publicis' combined second-quarter revenues are estimated at around £3.8 billion, £700 million ahead of WPP's.