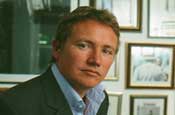 CHI will remain its identity, under the terms of the deal, but will have access to WPP's international reach and media planning and buying facilities.
The agency's revenues for the year ended 30 FJune, 2006 were £18.5 million, and gross assets at that time werer £17.7 million.
WPP's chief executive Sir Martin Sorrell, said: "We're delighted to form a partnership with CHI. We have admired Johnny Hornby, Simon Clemmow, Charles Inge, Simon Hall, Warren Moore and their colleagues for many years. We think that the proposed structure gives CHI the chance to capitalize on WPP's resources, while maintaining its independence."
Hornby said, "Two great things happen as a result of this partnership with WPP. We can now fully support our clients both internationally and by becoming a new model full service agency. In so doing we have secured the long-term independence and security of CHI for the benefit of everyone in the business. WPP has undoubtedly the best array of digital and media buying talent and clout in the world and to be in partnership with them is a wonderful opportunity."