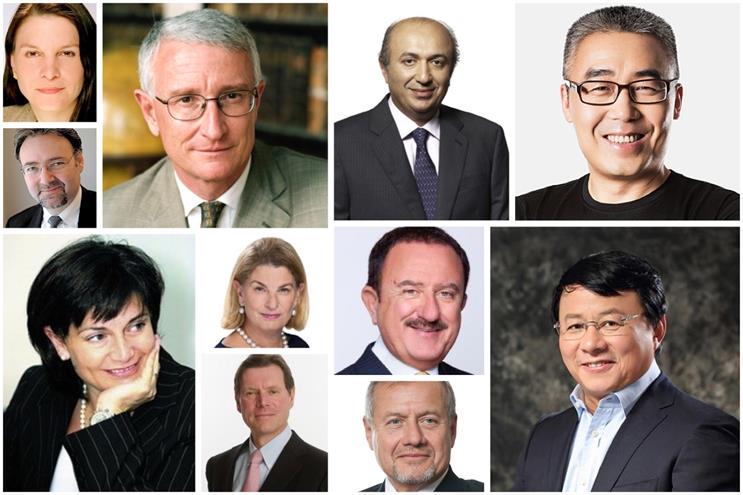 According to WPP's site, its board of directors comprises 12 individuals, including Sorrell.
The board (not including Sorrell) are:
Roberto Quarta
Chairman
Roberto Quarta was appointed a director of WPP in 2015 and became chairman of WPP in June 2015. He is chairman of Smith & Nephew, a FTSE 100-listed global medical devices company and partner of Clayton, Dubilier & Rice and chairman of Clayton, Dubilier & Rice Europe, a private equity firm. Previously, he was chief executive and then chairman of BBA Group, chairman of Rexel SA and a non-executive director at BAE Systems, Equant NV, Foster Wheeler AG and PowerGen.
Paul Richardson
Finance director
Paul Richardson became group finance director of WPP in 1996 after four years with the company as director of treasury. He is responsible for the group's worldwide functions in finance, information technology, procurement, property, treasury, taxation, internal audit and sustainability. He is a chartered accountant and fellow of the Association of Corporate Treasurers.
Jacques Aigrain
Non-executive director
Jacques Aigrain was appointed a director of WPP on 13 May 2013. He is currently a senior advisor at Warburg Pincus LLP. He was on the executive committee of Swiss Re AG from 2001 to 2009 including chief executive from 2006. Prior to that, he spent 20 years with JP Morgan Chase in New York, London and Paris. In addition, he is a non-executive director of London Stock Exchange Group and a supervisory board member of LyondellBassel NV and Swiss International Airlines AG. He was chairman of LCH Clearnet Group Ltd from 2010 to March 2015, and also was a director of the Qatar Financial Center Authorities until March 2015 and supervisory board member of Lufthansa AG until April 2015.


Tarek Farahat
Non-executive director
Tarek Farahat was appointed as a director on 11 October 2016. Farahat is a global adviser to JBS Worldwide, having previously served as chairman, global president for marketing and innovation and as a member of the board of directors of JBS S.A. Farahat serves on the board of Pilgrims Pride Corp. Prior to JBS, Farahat spent 26 years at Procter & Gamble, in a range of marketing and general executive management roles, working across Europe, the Middle East, Africa and Latin America, including the general management or vice-president roles of the Latin America region from 2001.
Sir John Hood
Non-executive director
Sir John Hood was appointed a director on 1 January 2014. An international education and business leader, he was formerly vice-chancellor of the University of Oxford and of the University of Auckland. In his native New Zealand, he served as Chairman of Tonkin & Taylor Ltd and as non-executive director of Fonterra Co-operative Group, ASB Bank, and other companies. Hood currently serves as president and chief executive of the Robertson Foundation and as chairman of Study Group Limited and BMT group. He also serves as Chair of the Rhodes Trust. Hood also serves on the board of Aurora Energy Research.


Ruigang Li
Non-executive director
Ruigang Li was appointed a director of WPP on 12 October 2010. He is the founding chairman of CMC Capital Partners and CMC Holdings, China's most prestigious platforms for media and entertainment investment and operation with an extensive coverage across the entire spectrum of traditional and internet space. Li was the chairman and president of Shanghai Media Group for more than 10 years and successfully transformed SMG from a Shanghai-based provincial broadcaster into China's leading media conglomerate with the most diversified business scope.
Daniela Riccardi
Non-executive director
Daniela Riccardi was appointed a director on 12 September 2013. A prominent FMCG, retail-and-fashion products executive, she is chief executive of Baccarat, the international luxury goods company, and was chief executive of fashion business, Diesel Group. She was an executive at Procter & Gamble for 25 years, including service as president of P&G Greater China and vice president-general manager for Eastern Europe & Russia. Riccardi also sits on the board of Kering and on the board of Comite Colbert. Riccardi is a guest lecturer at the Grenoble Ecole de Management in Paris.
Nicole Seligman
Non-executive director, senior independent director
Nicole Seligman was appointed a director on 1 January 2014. Most recently, Seligman served as president of Sony Entertainment and Sony Corporation of America and Song Group Senior Legal Counsel. Until 2014, she was executive vice-president and general counsel for Sony Corporation. Previously, as a partner in the Washington law firm of Williams & Connolly, she counselled a wide range of clients, including major media companies, on complex litigation and commercial matters. Seligman serves on the Board of Viacom.


Hugo Shong
Non-executive director
Hugo Shong was appointed a director on 13 May 2013. He is the global chairman of IDG Capital and president of IDG Asia/China. He joined IDG in 1991 as an associate to IDG's founder and chairman, Patrick J McGovern, for Asian business development after working for three years as a reporter and editor at Electronic Business and Electronic Business Asia magazines. In 1993, he helped IDG to set up the first technology venture fund in China, IDG Capital, which now has $5bn (£3.56bn) under management and an investment portfolio including Baidu, Tencent (QQ), Sohu, Ctrip, Soufun and Xiaomi. In January 2017, IDG Capital led the acquisition of IDG Ventures, the investment business under IDG. He current serves on the board of Mei Ah Entertainment Group, an entertainment company with interests in television, film and theatre listed on the Hong Kong Stock Exchange. Hugo has been a member of the board of trustees of Boston University since 2005.
Sally Susman
Non-executive director
Sally Susman was appointed a director on 13 May 2013. She is currently executive vice president, corporate affairs for Pfizer. Susman also heads the firm's corporate responsibility group and plays a key role in shaping policy initiatives. Before joining Pfizer in 2007, Susman was executive vice-president of global communications at Estée Lauder, where she directed global corporate affairs strategy and served as a member of the executive committee. She also held several senior corporate affairs posts at American Express, working in both London and the US. She started her career in government service focused on international trade issues and her positions included deputy assistant secretary for legislative and intergovernmental affairs in the US Department of Commerce. She also serves on the board of the International Rescue Committee.


Sol Trujillo
Non-executive director
Solomon D Trujillo was appointed a director of WPP on 12 October 2010. He is an international business executive with three decades' experience as chief executive of high-cap global companies in the US, the EU and Asia-Pacific including Telstra, Orange SA and US West. Sol was an early champion of high-speed broadband and the mobile internet to stimulate productivity and innovation across all sectors of the economy. Sol currently sits on corporate boards in the US, EU and China and has managed operations in more than 25 countries around the world – including developed as a well as emerging markets from the EU and North America to China, Australasia, Africa and the Middle East.