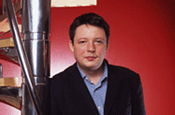 Muir, who joined Ogilvy as a graduate trainee in 1992, is taking up the role of director of political strategy for Gordon Brown's government. He will work closely with Stephen Carter, another WPP alumnus, who took up the role of chief of strategy and principal adviser to the Prime Minister in January.
Muir, 37, rose up the ranks at Ogilvy & Mather before replacing Mandy Pooler as chief executive of The Channel in the beginning of 2005.
An announcement from 10 Downing Street is expected this morning. Muir was unavailable for comment.