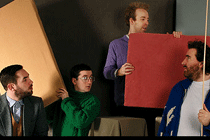 Creating Sense5, held at The Arches, London, will celebrate the launch of Wrigley's 5 gum. Five winners of Vice magazine's competition, to design performances that explore the five senses, will be announced at the bash.

Hot Chip will lead the judging panel for the awards as well as DJing at the event. Performances are also expected from electro-folk six piece The Penny Serenade and genre-busting DJ and MC Raf Daddy.

In January this year, Amplify was hired by Platform2 to help it find volunteers to help out in developing countries.
To leave a comment register and let us know your thoughts.