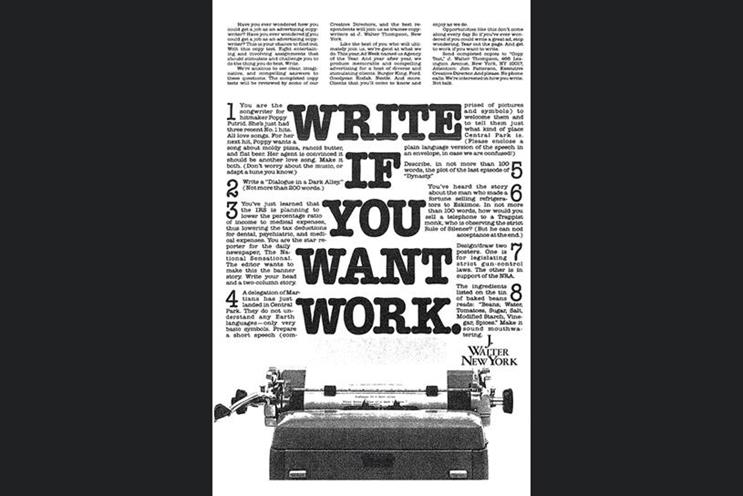 What is the best way to achieve creative excellence? We all love to romanticise the 'auteur', the lone creative genius who produces brilliant ideas before burning out and dying for their art in a garret. It's a very European idea, but also a very 20th Century idea.
Take writing for television. British shows are still written by individual writers: Julian Fellows writes every word of Downton Abbey – whilst in America the big shows employ 'writers' rooms' driven and directed by show runners – the industry's creative directors. You can't deny the success of Downton Abbey but the period drama already comes loaded with cultural clichés ready to recycle.
Whereas The Sopranos, The Wire and Breaking Bad are a part of contemporary culture: snappy, observed and prescient. Breaking Bad, for example, resonated with a savvy digital middle class audience during the 2008 recession just as they found themselves without insurance, fighting foreclosure and desperate to support their families when the money ran out. It was both a part of culture whilst it created culture.
Clients and agencies dream of resonating with an audience with the same power of these shows, and in doing so creating the same word of mouth success. Where is advertising's Walter White and his grade-A crystal meth?
Are we still stuck in the mid 20th century? After all, it was Bill Bernbach, founder of DDB who leveled the playing field by sitting the art department alongside the writers. Up until then writers had been in charge of the idea whilst the art directors had been responsible for the colouring in. And so the creative team was born. But that was over fifty years ago.
Times have changed and change is accelerating. There is always someone ready to do it faster and cheaper with no idea. Literally. Today advertising agencies compete with PR companies, media agencies and innovation shops, and anyone who can point a camera in the right direction reckons they can do content.
We all know that clients are reacting to the staggering pace of change as innovation cycles outpace business cycles. It's not helped by the clients' own hierarchical and siloed structures struggling to adapt to the world around them.
In the today's hyper competitive agency landscape what should creative departments look like and how should we behave?
Do we make creative departments more competitive, with multiple teams slugging it out within condensed timelines? The 'best script wins' approach has long held sway. It makes sense if you already know 50 per cent of the answer, i.e. it's going to be a TV ad.
But when clients come with genuine media neutral business problems, or the answer is as much about the communication ecosystem as a script, creative competition may not serve agency and client so well.
At Iris, we find ourselves adopting the writers' room approach with multiple disciplines sharing a room, sometimes all day every day, until the problem is solved. 72andSunny have adopted a collaborative ego-free way of working by sharing all work in progress on the walls and inviting anyone to come along and contribute and build on anyone's idea.
Forsman & Bodenfors, creators of Volvo's "the epic split", use 'the floor' – where creatives unconnected with the work are asked to critique, probe and advise the owners of the project. As everyone in the agency works with everyone else in a non-hierarchical untraditional structure, egos and titles are left at the door and the work clearly benefits.
These ways of working remind me of Pixar founder Ed Catmull's book Creativity Inc., which is packed with great stories and advice that sing the praises of collaboration and warn of the perils of ego. He says, "You are not your idea, and if you identify too closely with your ideas, you will take offence when they are challenged." He goes on to say, "When it comes to creative inspiration, job titles and hierarchy are meaningless."
The quality we value in our creatives, as much as creativity itself, is collaboration. The ability to share ideas, build an answer together and not be concerned with who did what. Competition exists, but not between teams, it exists within the creatives themselves as they compete to stay ahead of mediocrity, surprise their inner critic and do something they know they will be proud of when it makes it out there into the world.
Chris Baylis is the executive creative director at Iris Worldwide