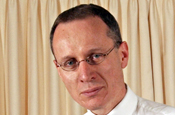 Newspapers and magazines have suffered in recent years as more people get news online and advertisers cut print budgets in favour of the internet.

But, after recoiling from the initial financial crisis, advertisers may be seeking more conservative, comfortable outlets to make their case to buyers, according to Thompson.

"You're starting to see them emerge in the sunlight after this period of darkness," he told the Reuters Media Summit in New York.

Thomson said that advertisers were starting to understand that consumers often ignore ads in other media because they are doing other things at the same time, diverting their attention.

With papers, the ads may be more valuable because readers stick around with the printed page, he claimed.

"The only multi-tasking that you can do while reading a newspaper is drink a cup of coffee," he said.

His comments fly in the face of the views of some analysts, who say that some US newspapers may fold in 2009.