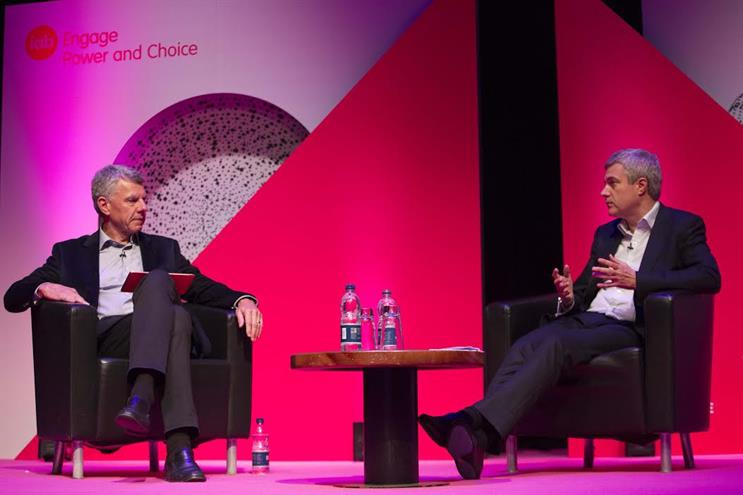 Mark Read told the IAB Engage conference in London that the ad industry would not become more tech-driven than creatively driven because "without an idea we're absolutely nothing".
However, he said the combination of tech and creative was the current challenge as brand communications migrated more towards digital.
In a fireside chat with IAB chairman Richard Eyre, Read said: "There's a case for both disciplines [tech and creative] and what we're trying to do is combine those two things.
"The combination of two different cultures is not an easy thing to do. Business and agencies from a more traditional creative background will find it harder to do than those from a data-driven background."
Eyre pressed Read on whether he agreed with P&G's chief marketing officer Mark Pritchard, who said in August that the FMCG giant would scale back targeted ads on Facebook.
Read referred to Byron Sharp's thesis in How Brands Grow: What Marketers Don't Know, in defence of mass creative advertising over highly targeted messaging (although the Wunderman CEO said he had only heard of the book on Monday).
He said: "TV is so powerful and it's why ITV, I think for the foreseeable future, will be a powerful proposition. The ability to reach millions of people in one go in a very creative way is beyond value.
"Highly targeted things are not unimportant, but it's a very different thing."
On the morning of the two-day IAB Engage conference, a PwC/IAB survey reported that mobile display adspend had overtaken desktop and tablet display spend for the first time, underscoring how advertising pounds had followed mass smartphone usage in the UK.
As brands try to make more use of data in a more sophisticated approach to targeting audiences on digital, specialist data agencies such as Wunderman were increasingly coming up against management consultancies and major accountancy firms in new business pitches.
Read described this increased competition as "an opportunity because the bits where people are competing are the exciting bits. The growth in competition with the accountancy firms is much more in new areas like ecommerce and system integration – bits that are massively spreading."
The difference, according to Read, was that ad agencies and management consultants were approaching clients from different perspectives.
"We come from understanding the consumer as well as understanding technology and we are talking to chief marketing officers," he said. "They come from a position of talking to the chief information officer. That's a false dichotomy. I don't think there's a situation where one person or the other is going to make the decision – they do it together."