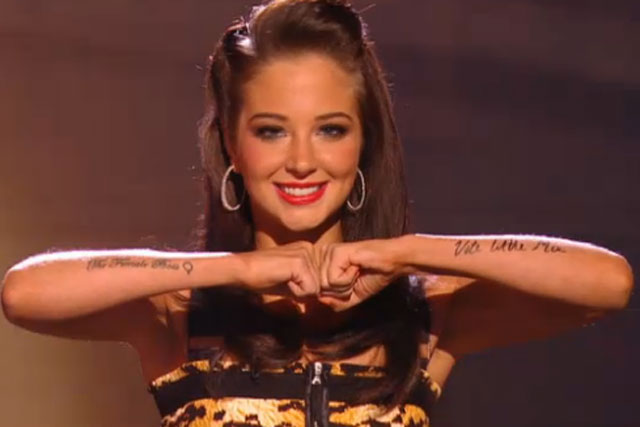 Contostavlos has a tattoo on her forearm which reads "The Female Boss". At the beginning of each live 'X Factor', she has taken to holding her arm up horizontally to display the tattoo to the audience.
The tattoo, which Contostavlos has had since January, is thought to refer to her role as the only woman in the band N-Dubz, but it is also the name of the brand of perfume she launched in October.
Last week, Ofcom launched an investigation into whether 'The Xtra Factor' on 29 October, 'The X Factor Results' on 6 November, and an episode of 'The X Factor' on 12 November, broke its rules around the promotion of goods or services.
Last night, Contostavlos wore a dress with cut-out shoulders and long black sleeves. This time she waved at the camera when she was introduced, rather than hold up her forearm.
The Ofcom investigation is considering whether the shows broke either rule 9.4 (products, services and trademarks must not be promoted in programming) or rule 9.5 (no undue prominence must be given to a product service or trademark) of the Broadcasting Code.
On Saturday night, however, Contostavlos held up both her forearms, on which she had written "Vote Little Mix" on her left arm to support of her only-remaining act.
The Saturday instalment of the show had a peak audience of 11.3 million on ITV1 and ITV1 HD (or 11.6 million and a 44% share including ITV1+1).
Between 8pm and 9.45pm, the show was watched by an average of 9.99 million on ITV1 and ITV1 HD, a 38.4% share. Including ITV1 +1, the average audience was 10.23 million viewers.
Follow Maisie McCabe on Twitter @MaisieMcCabe