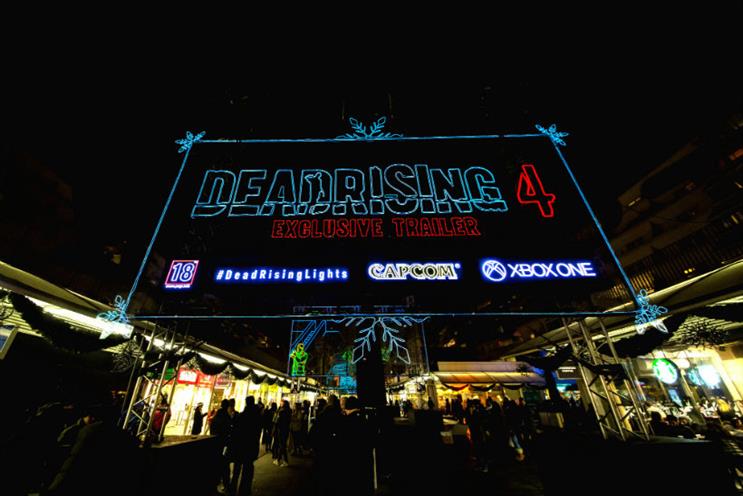 The lights are hanging in the Brunswick Centre in London and comprise several consecutive panels telling a story about flesh-eating zombies. The lights trailer mimics the real version, beginning with an age rating logo and concluding with the green Xbox closing frame.
Xbox fans themselves switched the lights on by interacting with a Facebook Live stream. This showed a zombie hand slowly moving down towards a button. When users tapped the screen, this prompted the hand to move downwards, press the switch and turn the lights on.
The campaign kick-off was livestreamed on Twitch and Periscope, and there are also Snapchat geo-filters. An interactive, 360-degree video allows Xbox fans to see the lights from afar.
It follows last year's multi-award winning outdoor ad by McCann for Microsoft Xbox, "Survival billboard", in which members of the public were challenged to spend 24 hours standing in a billboard to win a contest.
Adrian Simons, director of global Windows and devices at Microsoft, said: "Most Christmas lights are switched on by celebrities, but in this case the honour went to Xbox's global fan-base.
"And they are not just any lights, they bring to life a new form of game trailer which we believe is a world first. This is a fun, bold and innovative undertaking in keeping with our commitment to our fans – and it's all done in the true spirit of the game."
The campaign was created by Jim Nilsson and Jacob Björdal at McCann London, and directed by Sam White through Helix.