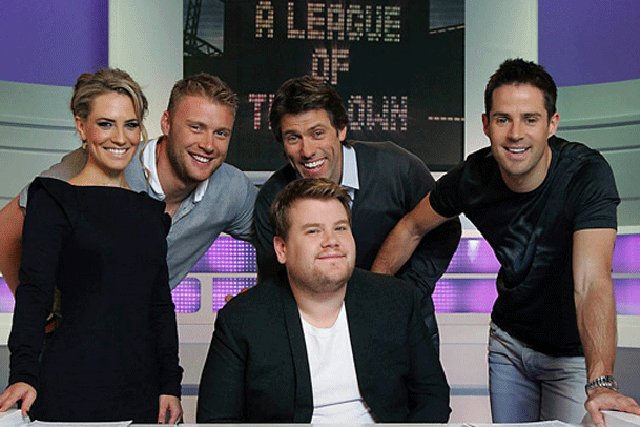 The first deal of its kind in the UK for both Xbox and Sky, the placement will run in the final episode of the current series of Sky1 HD's sports panel show 'A League of Their Own'. The show features host James Corden alongside team captains Jamie Redknapp and Andrew 'Freddie' Flintoff.
The placement is part of Xbox's ongoing six-figure broadcast sponsorship and product-placement agreement for the series.
In the 16 December edition of the quiz, contestants will participate in a 100m 'sprint challenge'. Players run on the spot in front of a screen, their movements being detected by the Kinect.
Through the tie-up, Xbox became the first brand to strike a product-placement deal with a BSkyB-owned channel.
The activity has included showing the audience of 'A League of Their Own' playing Kinect Sports. However, this is the first time Kinect has been part of the show's content.
The deal was brokered by UM London in conjunction with Xbox, Sky and production company, CPL Productions.
Stephen McGill, director, Xbox and entertainment at Microsoft UK, said: 'A product like Kinect needs to be seen in action. This development is a brilliant example of how we continue to challenge the boundaries that the platform offers.'
Jason Hughes, head of branded content at BSkyB, said Xbox was "a natural fit" within the editorial. The broadcaster is looking to strike similar deals with other brands.
Paid product placement has been allowed in the UK since 28 February. ITV1 was the first channel to sign a deal, placing Nestle coffee brand Dolce Gusto in This Morning.
While placement has been gaining traction in the UK, so far it has tended to involve branded objects in the background, such as the recent deal between Nationwide and ITV's Coronation Street to display the brand's logo on an ATM.
A handful of brands have begun to integrate placements into editorial content, such as advertiser-funded shows Find My Past, on UKTV channel Yesterday, and New Look's Style the Nation on Channel 4.
IN MY VIEW - EXPERT COMMENT - MARK WOOD, FOUNDING PARTNER, KREMPELWOOD
"This deal is exactly what product placement should be. In my experience, product placement has not become the slippery slope that some feared it would. Research shows that when a placement is combined with sponsorship it is more effective than when a product is placed on it own - if a placement appears out of the blue, it can look ridiculous. The use of product placement with ad-funded or sponsorship deals will increase dramatically, but I don't think standalone or random placements will take off, the recent Nationwide deal being the exception to this."