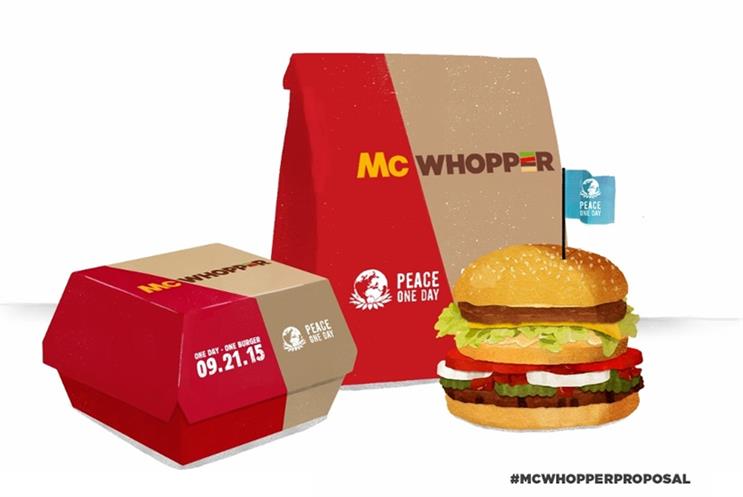 NEW YORK — Y&R New Zealand's "McWhopper" campaign for Burger King and Peace One Day won the Best in Show award – the Grandy – and its $50,000 cash prize at the 52nd Annual International Andy Awards, hosted by the Advertising Club of New York Tuesday night at the High Line Hotel here.
Venables Bell & Partners took home the Bravery Award for REI's #OptOutside Black Friday campaign, and GPY&R Brisbane and Melbourne won the Richard T. O'Reilly Award for Outstanding Public Service, for the "Melanoma Likes Me" social media campaign.
Leo Burnett topped the list of agencies for the most awards won, with 16, including nine Golds (Atlantic Groupe "37 Days," WWF Australia "Just"). Next was adam&eveDDB with 15, including 8 Golds (John Lewis' Christmas ad "The Man On The Moon," Harvey Nichols' "Shoplifters"). Wieden + Kennedy took home 11 awards, including four Golds ("Verizon in Minecraft"), and FCB won eight Golds (Sports England "This Girl Can").
The Burger King campaign extended an olive branch to archrival McDonald's last summer, offering to make peace for a single day on Sept. 21 – Peace Day 2015 – to create a joint sandwich by combining the best parts the Whopper and the Big Mac, a proposal McDonald's dismissed in a Facebook post.
The social media backlash helped generate 8.9 billion global impressions for the campaign, increased awareness of Peace Day by 40% and initiating a partnership with other fast-food restaurants to create a joint burger. Proceeds benefited the nonprofit that created United Nations Peace Day.
Outdoor equipment retailer REI closed all 143 of its stores on the busiest shopping day of the year, Black Friday, last year, giving all of its employees a paid day off, even as the holiday shopping season intensifies each year.
"Brave, creative work is not only able to impact us as an industry, but also as people," said jury chair Colleen DeCourcy, global executive creative director of Wieden + Kennedy. "This campaign shows how REI operates on empathy for its staff and for its customers, using it to drive all business decisions, including execution of the brand's message, actions, products and services. Marketers like REI are leading us in the right direction and are exemplary of how we should operate as an industry."
GPY&R created a social media profile for melanoma, a skin cancer that kills 1,500 Australians each year. Using an algorithm to search hashtags and locate photos of people enjoying themselves in the sun, the team running the account left cheerful but ominous messages like "I'm right there with you" and "Love a backless dress."
The account's profile included links to melanoma information, and the 4-week campaign increased mobile visits by more than 1300%. The agency is donating the $10,000 prize to the charity Melanoma Patients Australia.
Djawid Hakimyar, a director attending Filmakademie Baden-Wuerttemberg in Germany, won the student Best in Show award for a soaring spot featuring glistening, tawdry bodies.
The 23-person jury included Mark Tutssel, global CCO at Leo Burnett; Juan Sanchez, CCO at TBWA; Malcolm Poynton, global CCO at Cheil; John Patroulis, creative chairman at BBH; Fan Ng, CCO at Saatchi & Saatchi; Jeff Kling, CCO at Fallon; Ricardo John, COO at JWT; Gerry Graf, CCO at Barton F. Graf; Pete Favat, CCO at Deutsch North America and Susan Credle, global CCO at FCB.
"As an industry, we need to keep pushing the boundaries of creativity and honor those leading the way," said Gina Grillo, president and CEO of The Ad Club of New York. "Colleen and our jury have set the bar high by honoring those who are daring and who are not afraid to support ideas and projects they care about."