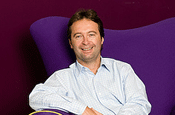 Parcot was previously the vice president of small and medium business sales for Yahoo! Europe.
Parcot, who has worked with Yahoo! for six years, was appointed the vicepresident of southern Europe for Yahoo! and the managing director of Yahoo! France in 2005.
Prior to this, he set up operations of Yahoo! Search Marketing in southern Europe.
Parcot's previous roles include senior positions at Bertelsmann, LVMH and
Liberty Surf, where was a co-founder.