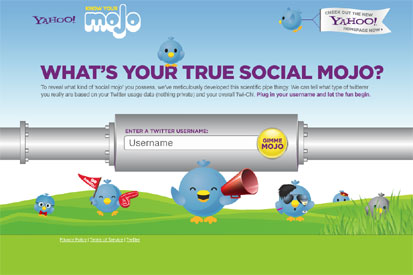 Using it's own algorithm Yahoo! probes users' Twitter usage data, or Twi-Chi, to reveal what kind of "Social Mojo" they possess.
Entering a Twitter username will evoke one of 17 possible Twitter-personalities, from Cheerleader to Wall Flower.
Users can share their results on Twitter or Facebook, with a link back to the website.
Social Mojo promotes Yahoo!'s recently revamped homepage, which allows users' to add sites, such as Twitter, as personalised widgets on the main page.
The Twitter personality types are:
Cheerleader - Retweeting is how you roll
Wall Flower - You don't tweet much but you're still in on the party
Private Eye - Like any good investigator, you're following a boatload of people
Word Whiz - You're a natural wordsmith and make the most of your 140 characters
Shadow - You follow lots of people like a good shadow would
Name Dropper - You use lots of @names when you tweet
Headliner - You're the star of the Twitterverse, have tons of followers, and have
retweets the likes of Ashton Kutcher and Perez Hilton
Party Animal - With so many followers, you're the life of the party
Concierge - You live for links and sending people to the best stuff
Lone Wolf - You're more of a low-profile type (some might even accuse you of lurking)
Matchmaker - You pass along lots of URLs to make sure everyone's connected
B.F.F. - Your volume of @replies makes you everybody's best bud
Novelist - You have a lot to say and tweet with a lot of characters to prove it
Tweethead - Your high number of retweets shows you like to spread the good stuff
Crowd Pleaser - You use lots of hashtags and are in on all the hot conversations
Scenester - If there's a hashtag conversation happening, you're there