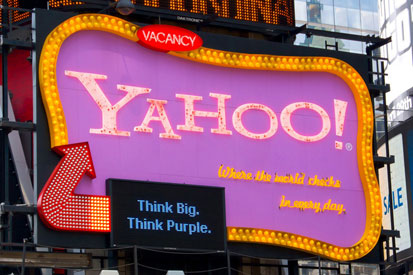 Yahoo Buzz allows users to uncover, vote on and share remarkable news stories from across the internet, much like Digg or Reddit.
In April last year, Yahoo Buzz in the US actually passed Digg in traffic figures, pulling in 7m unique visitors in the month, coming as a shock to analysts.
At the time, the website also boasted a lopsided female user population, about 51% - compared to Digg's 39% female users.
Yahoo Buzz will be launched with a new version of Yahoo Mail, in conjunction with the company's redesigned homepage, which went live last week.
The new Yahoo Mail emphasises its social media adaptability. Users will be able to use other web applications such as Flickr and Paypal without having to leave their mail account.
The Yahoo homepage, which features a swathe of third party content in the form as widgets, for websites such as Facebook or Gmail, also saw the company sign a number of content deals with major publishers in the UK
The website features portals for the Financial Times, Time Out, Elle, and Transport for London..
Users can access these apps from their computer or mobile.
Yahoo UK has also partnered with news providers to create a seperate news module on the homepage, with feeds from Yahoo News and publishers including The Guardian, The Daily Mail and The Daily Telegraph.
Rich Riley, senior vice president, Yahoo Europe, said: "The launch of Yahoo's new homepage, Yahoo Buzz and our new Yahoo Mail are powerful examples of our commitment to be at the centre of life online by helping people everywhere connect with the people and things that matter most to them."