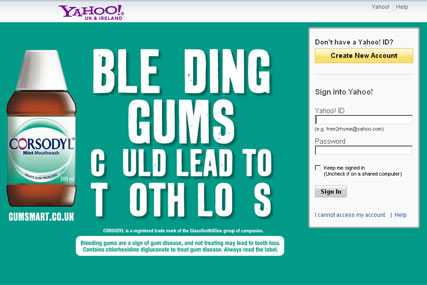 The internet giant said the takeover format allows advertisers to design high-impact creatives that would also be suited to outdoor spaces.
Launch partners GSK and Santander will be using ads similar to their outdoor ones, according to Piers North, head of strategy at Yahoo!, for their one-day takeovers rolling out today and Thursday respectively.
North said: "We constantly have to innovate as it is a very competitive market and we want to be top of our game wherever we can. Appetite is out there to use large canvasses so we felt it was a great opportunity."
The mail service is the biggest property for Yahoo! in the UK, making the login ad a premium placement for brands.
North said Yahoo! is "mindful" of not bombarding the user with overpowering ads and will therefore have strict specifications for advertisers, including limiting the number of takeovers to two a week.
North said: "Obviously there is a balance, but users understand the trade-off that exists in the free services."
Blake Irving, Yahoo! chief product officer, speaking at a conference at the firm's headquarters in California, announced the company was entering a three-year push to revamp its current service in an attempt to challenge Google's internet stronghold.
North said that although plans for the new advertising format in the UK were not directly linked to Irving's announcement, ad and product strategy "go hand in hand" and admitted more changes to Yahoo! Mail are in the pipeline.
Last week Yahoo! announced it has appointed Ids's James Wildman as managing director and vice-president of sales for Yahoo! UK & Ireland, replacing Mark Rabe who leaves at the end of the year.