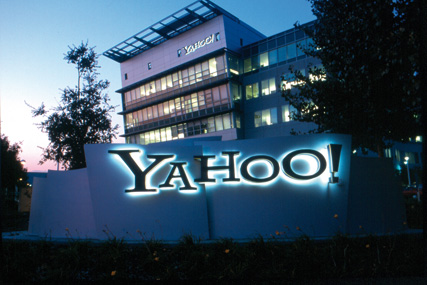 The global internet company achieved revenue of $1.73bn in the fourth quarter, still down 4% year on year, but its best performance of 2009. It also achieved profits of $153m.
Much of the growth was generated by display ad sales, up 26% from the third quarter, marking its biggest quarter-on-quarter increase in three years.
Yahoo!'s search revenue was also up 4% quarter on quarter but down 15% year on year.
The results were seized upon by Yahoo! chief executive Carol Bartz as a sign growth is returning to online advertising.
Speaking little over a year after being appointed the company's chief executive, Bartz said: "Our business has positive momentum and we feel good as we head into 2010."
The internet services giant forecasts revenue will rise 3% in the first quarter of 2010 to $1.63bn (£1bn).
Yahoo! hinted at ambitious expansion plans this year when Bartz said: "For us, 2010 is about acquisitions and investments to make Yahoo! even stronger."
Yahoo!'s better than expected fourth-quarter results follows rival Google reporting revenues up 17% over the same period.