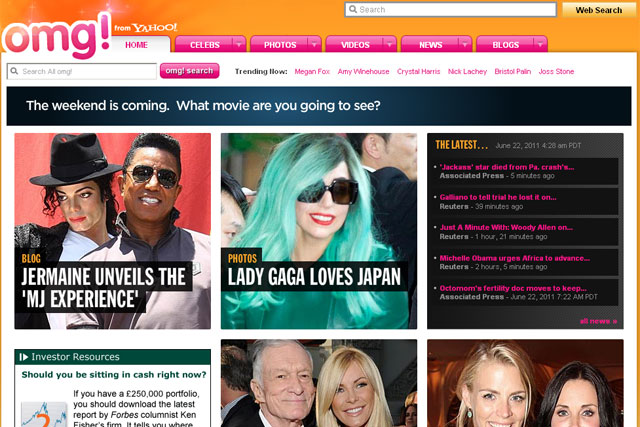 Speaking at Cannes International Advertising Festival today James Wildman, managing director and vice-president sales, UK and Ireland at Yahoo, unveiled the plans to roll out the site, which targets women aged 16-34.
It will launch with Julia White, former deputy editor of OK! online, as editor, leading an editorial team based in London. The site will also feature content from celebrity news sources including the Daily Mirror's 3am, Handbag.com, Company Magazine and Access Hollywood.
Wildman said: "The launch of omg! is another significant move by Yahoo! to engage with consumers in a relevant and meaningful way.
"Celebrity and entertainment news which appeals to women from ages 16-34 is a core audience for Yahoo and also our advertisers and we're excited by the opportunities that omg! will bring us and the digital media industry."
Yahoo launched omg! in the US in 2007. The site goes live in the UK, Spain, Italy and Germany in July. It has no advertisers to announce yet.
Earlier this month, Yahoo partnered with Coca-Cola to create a digital fashion channel Style it Light for its Coca-Cola Light and Diet Coke brands' 'Love it Light' marketing push.