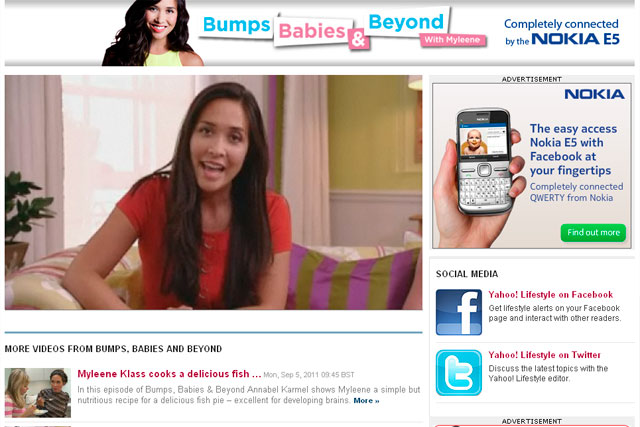 Nokia will be the headline sponsor but Yahoo is also looking for other advertisers to back the series.
The 48-part series 'Bumps, Babies and Beyond' features the celebrity mum meeting parents and experts to share parenting advice.
Nokia is promoting its new E5 smartphone, with Qwerty keyboard in a deal negotiated by Carat Sponsorship, to engage with parents "on the go" during the four-month campaign.
Adam Johnson, head of brand and campaigns at Nokia UK, said: "Myleene's 'Bumps, Babies and Beyond' presents a great opportunity for us engage with our target audience for the Nokia E5 smartphone in an interactive, content rich environment."
The launch of the online series is part of Yahoo's strategy to position itself as a premium content provider.
It follows on from the recent launch of its celebrity site, omg!, in Europe and April 2010's deal to broadcast the Barclays Premier League highlights online.
Last week the digital media company sacked its chief executive Carol Bartz. Already a number of reports have emerged about a possible merger of Yahoo and AOL, which share a similar content-led strategy.