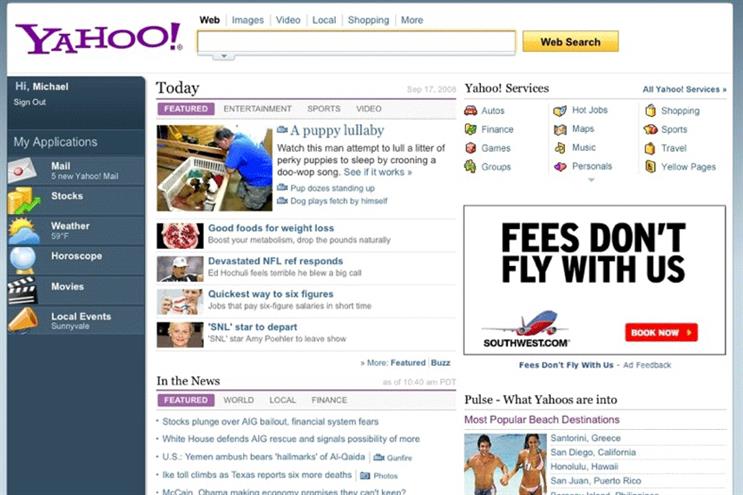 The most significant aspect of the revamp is Yahoo!'s move to embrace third-party content and services through a 'My favorites' navigation bar on the left side of the homepage. Consumers can access these as in-page modules - referred to as 'apps'. These modules are monestised via ad units that can be targeted to the content brought in from third-party sites.
Apps on the new-look homepage include email from AOL and Gmail; social networking tools from Facebook, MySpace and Twitter; as well as content from NPR and USA Today.
Most of the changes made by Yahoo! seem to be wholly aesthetic. Here's why:

1) Yahoo! has spent a lot of money on a facelift for its homepage, but it doesn't appear to have actually made any changes to the search experience, which is a core reason most users visit the site. The search results aren't any less bizarre than usual, and the questionable nature of which listings are 'organic' and which are paid-for still seems to be exist. I guess changes like that may eventually be solved if Yahoo! does in fact partner with Microsoft.

2) The app functionality seems all well and good for users, but there is a strong chance Yahoo! will end up annoying partners like Facebook, MySpace and Twitter. Yahoo! is integrating its own advertising into these apps, meaning it's either going to irritate users because they think their experience is being ruined, or alienate content partners, who will feel that they're losing out on display revenue.

3) The proposed changes to Yahoo!'s news feed (i.e. making it more than just Yahoo! news stories) seems about three years behind Google. It is something Yahoo! should have corrected a long time ago. As with all Yahoo! services, there is a question over how are the news service providers are going to be picked: will they be the most relevant, or the ones that pay the most?

4) Finally, you can almost guarantee that Yahoo!'s move to integrate Twitter into its homepage will be a disappointment because it won't focus on integrating real-time Twitter search results with relevant queries.

Yahoo! has today released its second quarter financial results, revealing another lacklustre period. The company's core display business dropped by 14 per cent year-on-year, which is worse than Q1's 13 per cent dip. This is Yahoo's most important business, and it's showing no signs of a turnaround. Meanwhile, search dropped 15 per cent, a worrying decline given that Google recently posted a 3 per cent increase during the same period. Perhaps it is time for that Microsoft deal after all?