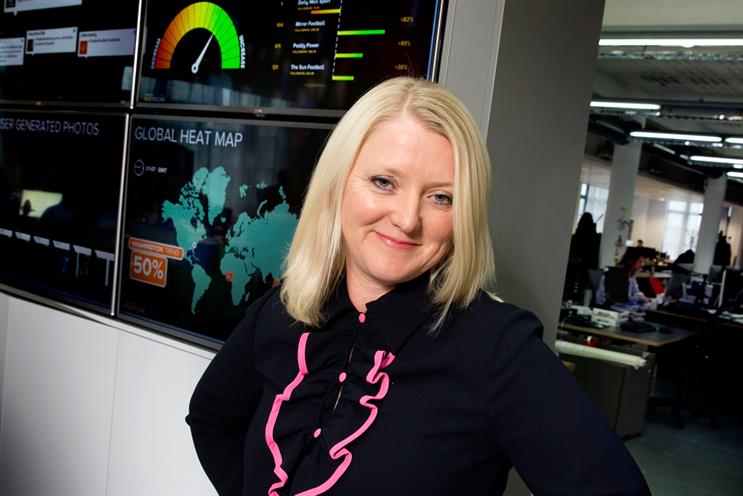 The accelerating pace of change is so often talked about in the industry that it's in danger of sounding like a hackneyed old cliché. But having just put the second year of leading Wunderman to bed, it's impossible not to stand back and marvel at just how real and all-encompassing that change is.
It's not just the pace at which we're having to evolve the customer engagement offering, it's the ever-widening breadth of what we must offer that is truly breathtaking. As our clients wrestle with the marketing potential and organisational challenges that our connected world offers, we've found ourselves having to reorganise in order to grasp the opportunities that come with it.
We've restructured around four key capabilities that we think best serve the new order: digital transformation, brand and campaign marketing, CRM, and publishing and content. Each of these units is run with a "build and iterate" product development mindset in order to make sure we're at the top of our game in them all. What's staggering is that two of these disciplines would have drawn blank stares if you'd have talked about them at the Campaign Big Awards just five years ago.
All this change makes it so easy to get caught up with internal industry navel-gazing. Which is why I wanted to spend this essay looking not inwards, but instead focusing on the real revolution going on: the rise and rise of the power of the customer.
The age of the customer is upon us, and our clients' brands are in their hands
Take the airline industry. For years, Ryanair built a business on delivering a no-frills experience at low prices. Even though they had a customer satisfaction score only just above Cubana, customers still seemed happy to accept a torturous online booking experience and forego customer service for the promise of low prices.
Perhaps it's just that, as consumers, we tired of its contemptuous attitude towards us, or we simply started to see through an advertising strategy that seemed to take pride in being opaque, but we started voting with our feet. It was only then that the champion of this approach, Michael O'Leary, realised that customers held the real power and that the airline's attitude must shift.
He trumpeted a shift to a new customer-centric philosophy of "Not pissing customers off unneces­sarily…" and ploughed investment into becoming customer-obsessed, overhauling the website-booking experience, introducing proper customer service and making its pricing model more transparent.
Ultimately, this led to a dramatic turnaround in customer numbers and profitability.
The trouble is that fixing the customer experience isn't an easy (or cheap) endeavour and its delivery has not always been seamless. For example, the popularity of a "mobile-first strategy" must have seemed like a great idea at the time, but it hasn't been the solution, often resulting in siloed capability and fractured customer journeys. Delivering a connected customer experience requires more agility and a real focus on consistency as customers are moving faster than the industry can, constantly resetting their expectations.
YouTube got it right when it put customer experience at the centre of its development plans, removing functionality from the desktop platform so that it matched what YouTube delivered on mobile. This ensured that consumers enjoyed a consistent experience, whichever device they picked up.
If we don't run beside social influencers, we'll be at risk of dropping e-mails into empty inboxes and being the butt of jokes
The logic in investing in and improving on customer experience and infrastructure is borne out by research from Forrester, which shows that companies that do so outperform the market by more than 40 per cent. So this leads me to the first challenge for customer engagement in the year ahead, at a time when direct communications can no longer be considered a one-way street, a monologue delivered (albeit with precision targeting) to a customer's channel of choice.
Customers are talking – and shouting – back
While we were sleeping, the web gave birth to a generation of social influencers who, from the comfort of their own homes, are engendering more trust and loyalty from their fan base than most brands could ever dream of. They have the power to draw the crowd and to influence brand perception; and, with a Tweet here and a comment there, the everyday consumer is following suit. They are engaging in the conversation in a very different way and, if we don't run beside them, we'll be at risk of dropping e-mails into empty inboxes and being the butt of the joke.
For The Sun's Dream Team fantasy-football game, we built the whole campaign based on insight from real player behaviour that used the right tone of voice to start social conversations. Insight told us that almost every supporter chooses players from their own club's rivals when playing Dream Team. The resulting campaign – "it's not cheating when it's your Dream Team" – played this insight back to them with comic scenarios of guilt-ridden fans, built excitement ahead of the new season and gave Dream
Team an utterly convincing voice. And the campaign really took off when we fanned the flames in social with social listening and response around "#DTconfessions" – thousands of fans shared their confessions and grassed up mates in a good-humoured and fun way.
Engaging with today's customer means listening first
We need to immerse ourselves in their faster-paced, more digital world. Once we keep pace, we'll find their message is quite simple and hasn't really changed – it has just got a lot faster and is happening simul­taneously on multiple platforms: "Invite me to the conversation where I want it, when I want it and use my language."
And, as a customer, it's my message too. I'm very rarely delighted by communications sent to me. And I don't really mind because I don't expect to be delighted every day. But I (like many others) will tell the world when someone gets it wrong… British Airways: don't deliver me the news that the flight I booked for six people has been cancelled by sending me a two-line text on a Saturday evening when I'm watching The X Factor! Without saying "Hi", or "We're sorry", or "This is what we've done to make it better"!
When McDonald's decided to listen, it found that the top search terms for its brand were "Is it pink gloop that is put in McNuggets?" and "Why don't my Big Macs look like the ones in the pictures?". Its response was to join in the conversation and to answer the questions directly by creating a series of behind-the-scenes photo shoots and a viral video taking customers on a journey to witness the birth of a real McNugget. So now if you type these search terms into Google, you'll find the video in position number one and McDonald's own website in position number two instead of damaging consumer-generated content and scaremongering.
Of course, there are many other more obvious ways with which brands can engage their customers that have stood the test of time. A focus on their needs and loves and finding a shared ground for their passions, along with greater creativity in bringing these to life, will encourage customers to join in the conversation and share them. But our role as agencies must be to help our clients navigate the fast-paced world of their customers, translating their business messages into real stories that real people (their customers!) will believe and want to share.
We need, in the year ahead, to take responsibility for helping our clients harness the data that's useful to them and join up their messages to create a story that's relevant for the individual without allowing automation to run away with itself and turn important messages that could engender brand warmth into annoying texts on a Saturday night when I'd prefer to be enjoying a glass or two.
The year ahead for customer engagement is doing what we've always done well but doing it better, at a faster pace, and converging direct and digital disciplines to put cus­tomers' experience at the forefront of our planning and execution. Because, in this space, it is the customer who is the harshest judge.

Mel Edwards is the chief executive of Wunderman