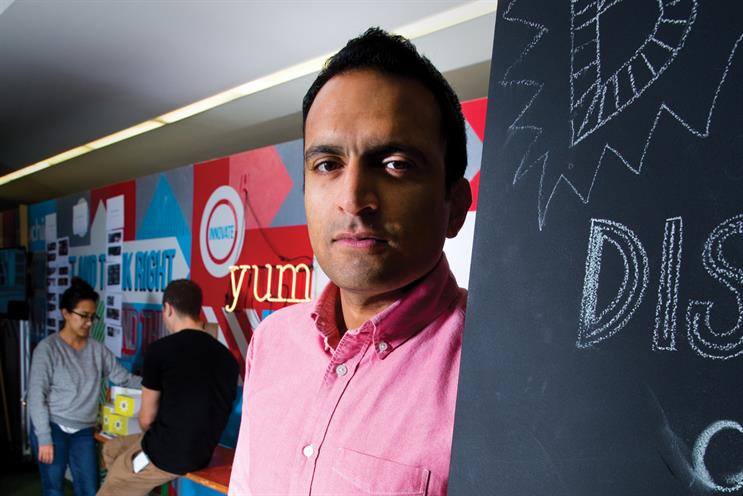 Here we go – an attempt to predict what will undoubtedly be another chaotic, boisterous and joyous year in digital, without hitting digital-buzzword bingo or ending up with egg on my face.
If 2014 represented another leap forward for the digital industry in both its ideas and prominence in marketing budgets, 2015 looks set to eclipse once again all that has come before it.
Undoubtedly, content, products, mobile and data will play a big part in this year's digital tapestry (bollocks, we're close to bingo already), but so will many of the internal and structural challenges we face on a day-to-day basis. Because, if nothing else, the landscape is evolving at such a rate that digital leaders will be spending most of their time looking at and tweaking their business models.
The big opportunity
Last year's British Airways pitch showed that we are at a tipping point on where creative leadership will sit in the advertising industry. Although SapientNitro did not win, it was quite a statement that such a marquee brand would take the agency right to the end of the process. This will be another year of digitally versed marketers moving further up the ladder in their organisations, another year of a digital Britain, another year where digital-first brands will look for like-minded partners to help build their business. Digital agencies should take great confidence from this. I suspect it won't be the year where digital finally sheds its silo, and marketers consistently demand ideas before channels. Nonetheless, the opportunity is growing for us "digital" agencies to lead a brand's creative agenda.
The big threat
Before you think I'm getting ahead of myself – a reality check. Digital agencies can be more influential to clients than ever before but, in this fast-changing environment, it's good to have a little healthy paranoia. Digital media platforms will be the newest, and potentially most dangerous, threat for us this year. Once seen as a potential partner to distribute our ideas, media owners are creating content and consistently distributing them at levels that would surpass most "virals" of yesteryear. The Buzz­Feeds and Contentlys of this world are the tip of an iceberg: connecting to their consumers and leveraging their algorithms in a way that most agencies will struggle to compete with, and hiring talent to get directly to brands, in the same way that Google did so successfully years ago. "How do we deal with this?" is a question every digital agency leader will ask themselves at least once this year.
Product v procurement
One opportunity to combat this will be the continued shift in agency innovation from content to products. Content marketing will still be the driver of our sector, and we'll probably see the continued expansion in the area of specialist content shops. But, in 2015, we will ramp up our efforts to make products for brands that drive advocacy through being useful, not simply entertaining, harnessing the potential of technology, data and creativity to solve business problems. Think Uber and Airbnb – businesses whose products were built on a model of collaboration with their customers, making their marketing an inherent part of their design.
Meanwhile, the creative techs in our business will be walking around with smiles on their faces, as "new" mobile devices such as smartwatches and fitness bands start to grow. We'll have a lot of fun exploring these new platforms that allow our brand messages and the experiences they create to be more personal and timely. Although I'm sure we'll look back on 80 per cent of them in the years to come as some slightly vain, embarrassing moments, they will be important steps forward, particularly as we start to deliver super-personalised messaging en masse.
So, overall, there is huge scope for brands to play across this product space. Most agencies are still not set up to drive this sort of innovation but – with the saturation of content marketing and resulting reduction in cut-through – utilities, through products, will be an area that many will start to dabble in.
In 2015, we'll be asked new questions by clients, we'll face new test as a businss and we'll have more arguments with procurement
What could stop this happening? I think you have already guessed. This will be another year of procurement-led pitches. We'll continue to see ourselves bucketed into digital, social, mobile, search, website and other specialisms, wondering why we can't get great channel-agnostic ideas out. This bucket-filling approach to finding the right agency by specialism will only detract from the purpose it was designed to fulfil – namely, drive brilliant creativity. We're starting to see marketing departments taking a greater role in procurement (and, for that matter, better marketing procurers), but I'm afraid to say we're still going into a year with Excel dictating the output and rates being as important as big ideas. This needs to be rallied against.
Data for social good
From one contentious issue to another. This will be the year when we truly get to step out of the shadows of data privacy and start to work ever-closer with organisations such as the Information Commissioner's Office to use data for social good. As an industry, we need to find a way to move beyond the universally negative consumer view of digital data usage. There is an unprecedented opportunity to do good for people at huge scale using digital information. Brands and agencies should be leading the charge in this sector. The flip side of that progress is that 2015 will be a year when data usage will have its lid lifted. It's a wild west at the moment, businesses built on the grey areas of data protection and lack of consequence. Consumers will be more educated than ever and high-profile digital businesses will be called to account, but we need to push to show the myriad positive impacts possible based on the wealth of information available.
Culturally connected
I wrote earlier about the need for digital leaders to spend time constantly evolving their model, forever asking: "Are we relevant and right for today and tomorrow?" That's because brands will continue to look to our sector to make them culturally relevant. And if ever there was a sector that could tap into the heartbeat of culture, then digital agencies are surely that. Increasingly, brands are turning to our sector to help them future-proof their businesses for the next decade. Changing not just their marketing models but their business models. Moving from the customer/supplier world of "do for me" to a partnership model of "think for me". What comes with that is a different type of relationship and a changing pricing model. Less hours-based, commoditised modelling, but true business partnerships with long-term goals and shared IP.
This won't only affect business plans but our talent too. Everyone is looking for digital talent, and the pool simply isn't big enough. All our agencies are hunting grounds for businesses trying to become more "digital". It's for the heads of digital agencies to frame the importance of the next five years, when we will begin to take the lead. This also means that we will shift towards hiring different talent, to stand out from what will be an ultimate ubiquity of digital channel capability.
We will look towards employees who are more connected to culture. Those who understand the drivers of consumer behaviours enabled by the digital revolution rather than just the devices and platforms themselves. Social, digital and mobile are incredibly powerful levers for fundamental shifts in culture. Finding talent that is part of that space, not simply educated about it, will continue to differentiate us from our competitors.
That's an extremely scary but also rather exciting challenge. And one that at least reinforces what we have always believed: that talent is still the number-one driver in our industry. In 2015, we'll be asked new questions by clients, we'll face new tests as a business and we'll have more arguments with procurement – but, if you arm yourself with the very best talent and foster an internal culture that helps it thrive, then you're putting yourself in a very good position.
Richard Costa-D'sa is the managing director at Jam