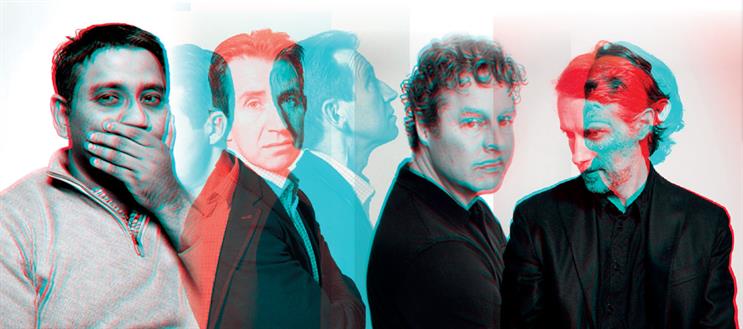 Joy Bhattacharya
Head of UK and Ireland,
Accenture Interactive
As more of our daily life becomes digitised, brands that offer consumers an authentic, human experience will win. To establish an experience-first brand, the chief marketer will have to become a masterful orchestrator of creativity, data and technology. As they stand up to take on this challenge, they will need to put in place new engagement models, as well as seek the support of a new type of agency.
Forrester's report "The CMO bar rises with more pressure for growth" gives some interesting insight as to growth being marketing's focal point, and suggests that a chief marketer's vision should revolve around experience and emotion.
In a nutshell, we see the progressive chief marketer as a "whole-brain marketer". They are the driving force of creating future experiences, owning the growth agenda and bringing together the right expertise to make it happen, and, principally, combining brand creativity and performance marketing. It's a fantastic challenge, and, as a trusted partner for the chief marketer, agencies have a great opportunity to be part of this transformation, defining the agency model.
An agency of the future needs to support this across three major pillars. The first is helping a brand to come up with its main organising idea and establishing the disruptor vision; that's the common thread connecting everything a brand does and represents. The second is acting as a partner to execute marketing operations that drive genuine, relevant and quantifiable outcomes for the business. The third is to create/co-invest in an "accelerator" construct that starts to create new propositions through a rapid test-and-learn model for future growth.
The critical concept behind all this is partnership. The chief marketer and agency work together to create and implement an experience-led growth agenda at board level. That's a very different role from today. But, ultimately, it's the purpose of what I call the experience agency: a partner for growth with experience as the driver for transformation.
A change in mission and a move toward closer partnerships means that agencies will need to embrace new ways of working – specifically new ways of engaging and assessing effectiveness through new KPIs.
'We will see more consolidation in the industry, aiming to create this more joined-up approach'
The more that agencies help brands to create, deliver and optimise end-to-end experiences with a clear, outcome-based partnership, the more entwined they become as growth partners for brands. Their success will be increasingly linked to the growth of their clients, through outcome-based payment models. We have done this with automotive manufacturers, for instance, which has proved a game-changer for the nature of the relationship.
All of this change has implications for how agencies manage talent, however. One of the key disciplines that will need to rapidly evolve will be client services. They should develop into becoming experience architects that can advise the chief marketer on how data, creativity and technology can come together to provide an end-to-end experience for the consumer.
The benefits can be significant, too: we have looked at the mechanics of the end-to-end experience and saved 30% of costs.
When will this start to happen? I believe it already is. We will see more consolidation in the industry, aiming to create this more joined-up approach, with clients asking for help in bringing everything together to deliver growth and demanding a true outcome-based partnership.
It may also be that we will see other parties starting to take an interest in this role. The consulting and agency world is already converging. But will another set of "digital-first, technology-scaled" players enter? They already play a major role in the communications and experience layer, and have the talent and growth hacks, leaving them poised to shake up our industry.
---
Put our humanity before your tech
…and take the opportunity to truly collaborate and create change together in 2018, says Chris Clarke, chief creative officer international at DigitasLBi
What matters in 2018 is which agencies and holding companies have the best response to the huge changes we are living through, both within our industry and in wider society. The time for diagnosis is over; now we must implement our chosen treatment.
We have a responsibility to understand and shape the technology that has done exactly what David Bowie said it would in 1999:
"I don't think we've even seen the tip of the iceberg. I think the potential of what the internet is going to do to society, both good and bad… we're actually on the cusp of something exhilarating and terrifying."
Well, we've seen the tip of the iceberg now. And what's great about 2018 is that, despite the accelerating pace of change, it's possible, if you're organised in the right way, to navigate the mayhem. Most intelligent people recognise that everything disruptive is not intrinsically good, but nor is it intrinsically bad. In fact, the people we work with inside the preeminent tech giants are encouraging us to "lean in" to help them shape their approach. They ought to; adspend pays for them to exist and, for the time being at least, agencies still control lots of it.
Concerns in wider society about the addiction principles that drive mobile ad models are a threat to the tech giants, to us and to our clients. We are in this together and I remain hopeful that we want a sustainable industry that produces genuine human value in order to make money.
Legislation, in its clunky way, is catching up. GDPR, far from being another existential threat to agencies, is an opportunity. With restrictions on the collection of data, relationship-building, beginning with good old-fashioned seduction, makes a case for itself as an alternative to mass automation, murky trading and an entirely robotic view of people, behaviour and culture. The algorithms are not going away, and nor would we want them to. I just think they may get better.
The emergent creative
There's a huge opportunity now for the classic craft of this industry to collaborate properly with the new. More than anything, a new creative is desperately needed – and it borrows as much from the past as it hopes to channel the future. To do this, though, we still need better collaboration between agency types. This year may be a tipping point.
Maybe I'm dreaming, but I think this might lead to marketers and agency bosses remembering there's a creative department. They'll find it's about a third of the size it used to be. That's fine, because in regrowing it, they won't need the "kids with crayons" of the recent past. The emergent creative of 2018 will be networked, business literate and – finally, maybe – perhaps genuinely media-neutral. That's certainly what our holding company has been working very hard for.
I'm excited about 2018. It feels like the year when humans make a case for humanity, when we stop letting the tech future just happen to us, and where the insight and empathy of the creative mind begin slowly to guide the driverless juggernaut of technology in a more positive direction. I'm hopeful, too, that we who fuel the internet as it is today, will be called on by our customers to ask moral questions of how their money is spent.
The creative spirit that prioritises wonder and joy over efficiency and a fast return is needed now more than ever. In 2018, it's newly evolved and ready to kick some robot ass.
---
Charlie Rudd
Chief executive, Ogilvy & Mather
We have been talking about the "changing agency model" every year I've been in this business. That doesn't make me depressed. In fact, it's good, because it shows that, despite what the cynics and critics say, we're not stuck in times gone by trying to cling on to a legacy business model.
All the agency leaders I know are paranoid about living in the past and want to do everything they can to be different from the agencies they've inherited or built. The fact that the agency structures of today don't look radically different from those of a decade ago, yet still deliver good margins to their shareholders, suggests that perhaps it's not as screwed as everyone likes to claim.
Clients should use agencies only for the stuff they can't do themselves. Otherwise we're a high-cost sub-contracting solution. We offer something special and should never forget it: simple, creative solutions that tackle business problems and deliver tremendous value to clients. That's all it's ever been about, and all it ever will be. And the fuel for all of this is still human talent and brainpower.
What is new, however, is the breadth of the talent we can access. For some, this will mean brand, data, behavioural and media planners forming the core of the team, for others it is UX, social and a specialist from Ogilvy Noor (our Islamic team).
We then simply build agency structures and models to help us organise our talent and enable our clients see what they're buying.
These are only as fixed as we perceive them to be. Clients and agency leaders know the only thing that really matters is the quality of the people. This will determine their satisfaction with the agency, regardless of models or processes. Yes, many skillsets have evolved with changing marketing opportunities, but the principles of what makes a good agency remain.
In many of the pitches we've been involved in and won in 2017, there have been long conversations about our agency model, team structures, organograms and the like. I would like to think our beautifully constructed keynote charts have convinced these prospective clients that we have the right agency model of the future. Perhaps they have, in part. But maybe we've also done well mainly because we've been able to front some compelling people who get the modern marketing landscape, like working together and are fired up to deliver for their new clients. Same as ever.
In looking to sustain momentum at Ogilvy, we've spent a lot of time focused on bringing in more good people to work with us, across all disciplines. Not once have I felt the need to talk to them about a new model or structure to attract them. Far more important are our agenda, beliefs and ambition.
I know I'm in danger of sounding Canute-like in suggesting that nothing needs to change, but that's not the case. My point is that, instead, Darwin-like, we've always been changing to fit what clients want, to ensure we're attractive and buyable. When we fail to do that, the best keynote chart on earth won't save us.
---
John Townshend
Chairman and founder, Now
In this article I will persuade you that the independent agency model is the way forward. That the other models are just silly or boring or cumbersome. Subliminally, you will get the impression that my agency is the best thing since sliced cheese, and, if you are a major chief marketer, you will call up Sir Martin Sorrell and say: "Martypops, I'm going to move my account, [megabrand], to a hotshop in Soho called Now."
Martin will fall off his beanbag in horror, then get on to the blower to me, and offer to buy us for £79m, and I will retire to Ibiza and join the nouveau riche on my Sunseeker.
No, that won't happen. That was my little › fantasy. I'm a dreamer, you see, as anyone who starts an agency is. A deluded chancer, who has a severe case of optimism, bordering on lunacy. And I have four partners who are the same.
I read a great definition of an entrepreneur – someone who jumps off a cliff and builds an aeroplane on the way down. I like that. The truth is, anyone – not just my partners and me – who joins a five-year-old, 100% independent company is signing up to a job as a downwardly mobile aeroplane-maker.
They're a specific breed, the people who join us: self-starting, curious, restless, brave, imaginative, ambitious, and many other good adjectives. And, yes, slightly crazy.
The challenge is to keep challenging those people; to keep them interested, teach them new things, give them unreasonable amounts of responsibility, help them feel fulfilled. And to love them like your own.
There's the other side of independence, though. The side you never talk about in articles like this. The fear; the fact that you have to stretch yourself further than you thought possible; the intensity.
Back in my days at a big US agency, if we won an account, you hardly felt it. It was like someone having an orgasm in the next-door bedroom. If you lost one, you hardly felt it either. Here, everyone feels everything, Every pitch we don't win, every client who ditches us. It's hard.
But – here's the optimist – there's an upside to this downside. Everyone gets to experience the truth of the agency business. Everyone cares. We laugh together and cry together, and everyone shares in the sense of the struggle that running a business is. They get a sense of responsibility, of reality, and they get to grow up fast.
The joy of independence is being part of this overexcited family. And the joy of independence for a client is that you get to work with people like this. They'll go out on a limb for you, because they're already out on a limb.
---
Jamie Kenny
Founding partner, Byte London
Reading the market analysis, you would be hard pressed to take a positive view of the agency business. The groups are facing significant headwinds; consultancies are the new Leviathans. Tech giants have disrupted the media marketplace; clients are bringing activity in-house.
With so much change across the industry, the question facing many is: what's the right agency model for the future? There is no blueprint, but there are some important considerations to underpin the agency new-build.
Work in the future, self-disrupt
Four years ago, when we started Byte London, we asked ourselves the aforementioned question. Our answer was to bring together four areas: paid media, creative content, data and marketing tech. We chose to focus on delivering revenue from social marketing and position ourselves as a marketing tech agency. Our belief was that the more we worked in the future, the less competition we would have. We felt that the market would move toward us, rather than against us.
If you're sitting in a bigger established agency, you may feel the market is moving against you. The challenge to find the right model isn't purely about invention, but self-disruption.
It is something Bob Greenberg of R/GA has often talked about. Interestingly, R/GA has gone from "re-inventing" itself every nine years or so, to doing it almost every year. I guess it has learned that self-disruption is preferable to being disrupted by someone else.
Adaptability, insight and agility
Future agency models need to recognise how and why clients are transforming their own businesses. Agencies need to be more transparent and recognise that if a brand wants to take a service in-house, maybe an agency's job is to adapt quickly and help them, rather than hinder them.
This sense of adaptability, insight and agility will be paramount to successful agencies of the future. Agencies with a broader spectrum of talent, from different backgrounds will be the ones best equipped to sprint toward change.
Creativity also needs to continue to adapt. Understanding how messages work across evolving formats is one of the most exciting opportunities for the industry.
Embrace automation and AI
Agencies can also become more efficient. At Byte, we constantly ask ourselves which tasks we can automate. We've created image feeds that save time for our studio, we've reduced time in pulling data by building API connectors and more than half the people we've hired this year applied for their job via our chatbot.
AI is coming. As PwC noted in a recent report about the workplace in 2030: "Automation and AI will affect every level of business and its people." Agencies that invest time developing expertise with augmented and assisted intelligence today are more likely to thrive with AI tomorrow.
In the end, not everyone will be taken into the future, but if you plan to be there, it's best to get there early.