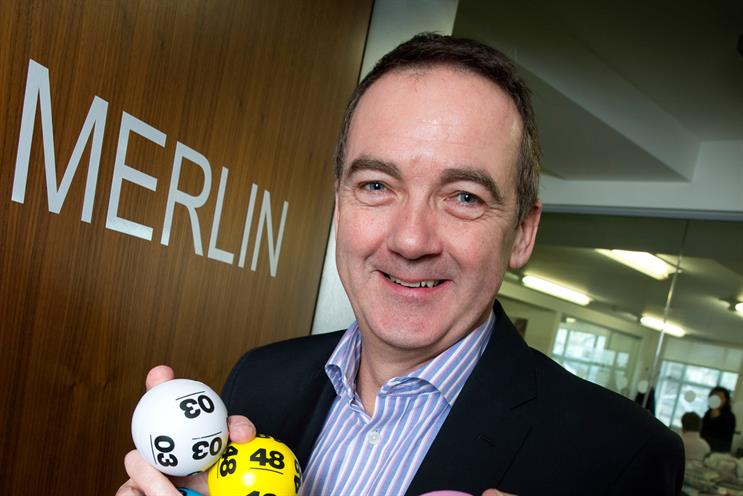 2015 has much to live up to at Camelot. In 2014, we celebrated 20 years of The National Lottery. Seventy per cent of adults playing regularly, £53 billion of prize money and – critically – communities, charities and society hitting the jackpot too, with £32 billion in funding for heritage, arts, sport and the
environment.

The public response to this milestone was overwhelming and I believe the affection felt towards our lottery is a reflection of Camelot's investment in the relationship between this unique business and the world.
So, having raided storage fo Mystic Meg's crystal ball, I'm gazing forward with my other hat on – that of the president of the Advertising Association – and I see plenty of parallels. Advertising creates enormous value for UK plc – a £100 billion contribution to GDP, according to Deloitte. Like Camelot, though
perhaps less obviously, it funds our culture, arts and sport. What's more, it funds our media too. It fires competition and delivers choice to people.
And yet, ask yourself: if we threw advertising an anniversary party in 2015, how would people respond?
That's why I'm convinced that advertising's relationship with its audiences needs a reboot. Consumer expectations, technology, global economics, domestic politics… everything is changing. And our licence to operate requires keeping a watchful eye on the unwritten agreement between advertising and society. It's a debate about business ethics, about data, fairness and transparency, and about how we govern advertising.
If we want those good works to take centre stage, if we want the world to turn up for our party, we have to show leadership. You have an opportunity to help at Lead 2015 on 29 January, where agencies, brands and media will come together to debate advertising's deal with society.
The conversation couldn't be more topical. This year is a huge one politically – manifestos are already being penned for a May general election, there's a new balance of power in Europe and referendum debates have rekindled some of the passion of politics. The question is: is advertising ready?
Promises, promises
Let's start with the known knowns. On 7 May, we will have a general election. And that's about it. Reading this in January, you'll have some idea of the promises parties will make in their manifestos – but there's a lot to be decided between now and the print presses rolling in spring.
For advertising, there will almost certainly be a direct challenge to how we do business. Public attitudes to advertising, according to Credos, are at best indifferent and, at worst, hostile. We continue to provide fertile ground for political posturing.
Ad bans can look tempting to all parties. Our biggest legislative challenge from this government was a coalition commitment to "crack down on irresponsible advertising to children". Labour has already made clear that the marketing of sugar is in its sights. Advertising rules around payday loans, e-cigarettes and gambling have all been under close scrutiny in recent months and, with every new issue, our model of self-regulation is held up to inspection.
The Advertising Association exists to evidence these debates, to remind people that advertising works for people and, ultimately, to make the case that self-regulation creates better outcomes for everyone. But that remit should not – and cannot – be confused with dogmatically defending the status quo. The fact that party manifestos are odds-on to include concern around advertising suggests that some think we could be doing better. I think so, too, and am looking forward to the conversation at Lead.
And the winner is…
For the neutrals, the election will be fascinating. Whether you bleed red, blue or any other colour, it will be agonising.
We have to lead the debate - both speaking up for the value we create and being open to challenges around ethics, fairness and the role of business
Whether it's another coalition (the prediction in vogue) or a narrow majority, whoever takes over the government will have to act quickly on one main agenda: cuts, cuts, cuts. As they begin to bite, the conversation will inevitably turn to what "responsible capitalism" looks like.
Regardless of your politics, if you work in advertising, you trade in consumerism – and household consumption accounts for more than 60 per cent of our GDP. Advertising is business at its most visible, so we have to lead the debate – both speaking up for the value we create and being open to challenges around ethics, fairness and the role of business.
At a practical level, as austerity efforts are redoubled, we should be ready to make the case for advertising as a tool of efficient, effective government. From road safety to public health to tax collection, marketing communications has a valuable role to play – but not every minister understands or agrees, and we have seen before that "advertising" and "waste" can quickly become confused when spending cuts bite.
How do you solve a problem like Europe?
To Brexit or not to Brexit? Is Ukip's arrival on the green benches the tremor of a May earthquake? How will Westminster handle our relationship with Europe? Here are two reasons why advertising should care.
First, Britain's reputation as an advertising leader. What would leaving the European Union mean for the UK's status as a global hub in advertising and media services? Will global brands continue to invest here and build worldwide campaigns from UK offices? Will global media companies still operate from and trial new technology in this market over others? If they do, it will be because we have world-beating creative talent, a culture of innovation and an appetite for technology that has established the UK as a world-beater digitally.
And that takes us to "reason to care" number two. The policy debate on data resides in Europe. How business manages privacy and transparency, and debates around the data protection regulations, are grinding their way through the political machinery in Brussels. And it's clear that EU politicians want more control over how data is used and shared. Increasingly, that's the foundation on which advertising is built and the source of our innovation. We have the edge on our European competition here and new laws must balance consumer protections with what works for business, jobs and growth.
Who writes the rules?
It was close but no cigar for the Scottish National Party but, regardless, it has triggered historic constitutional change. And the groundswell of democratic participation was a reminder that power continues to seep from Whitehall to our regions, cities, local authorities and councils.
The Local Government Association has a stronger voice and has become increasingly active in debates around advertising. The restructuring of the NHS means more say for local health boards and the arrival
of Public Health England, which is already finding its feet on debates surrounding advertising and sugar. As power devolves from Westminster, there are many more actors with the power to affect advertising's freedoms and, encouraged by single-issue campaigners, they will learn fast that being seen to tackle ads can be a politically useful alternative to tackling the root cause of the problem. That is a challenge to our self-regulatory system as it enters its 52nd year.
And so we're back to the beginning: our chosen – and much-valued – model of upholding ethics and standards. At its heart, it asks the public (and their elected officials) to "trust us" to get it right. But, with everything changing, is the model still fit for purpose? Is it keeping pace with new channels, techniques, perspectives and politics? Are we doing enough to earn and keep that trust?
The Advertising Association has built a powerful case for our sector's contribution to business, the economy and a free, informed society. But, for that to stick, we must also be willing to adapt and invest in our licence to operate. In this political climate, shying away from that debate is not an option.

Andy Duncan is the chief executive of Camelot and president of the Advertising Association