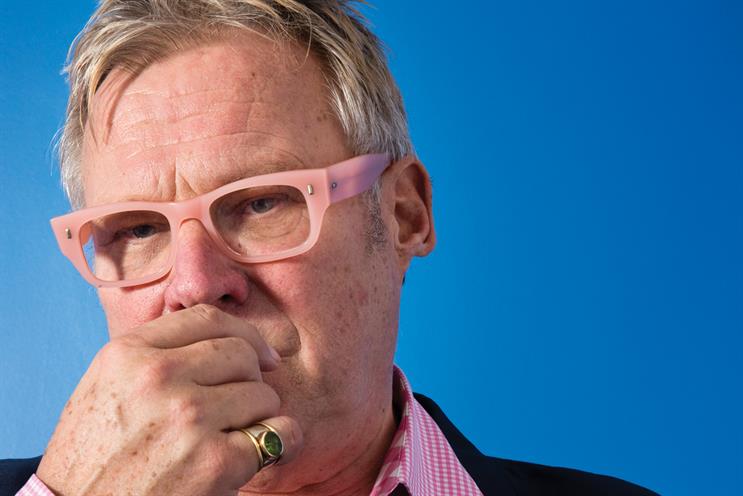 Three screamingly camp cowboys are on Main Street dressed only in boots, stetsons and big floppy leather chaps that expose their naked buttocks. Like a corps de ballet exercising to develop muscle tone, they chat as they dip and flex their glutes on the hitching rail outside the saloon. The tallest cowboy moans: "Man, it's tough out there for us cowpokes. That dry desert wind sure could slice a guy to pieces." The smallest, Tex, grunts as he executes a particularly deep lunge and groans: "Yup, especially with your ass hangin' out!"
This scene from Andy Warhol's Lonesome Cowboys popped into my head as I read Sir Martin Sorrell's sobering predictions for the global economy – especially his pessimistic assertion that "as geopolitical risks like the Chinese stand-off in Hong Kong, Isil and Ebola multiply", they will continue to "hit the confidence of major advertisers very hard".
Make sure your ass is covered
So my number-one prediction for 2015 is, when an economic tornado threatens to blow through the advertising business, make sure you're one of the production companies with its ass covered.
Of course, the strength of the downward financial pressure being applied by anxious clients to their agencies will not come as news to anyone. But, at a time when the world's biggest advertiser, Procter & Gamble, is shedding up to 100 of its 180 brands as part of its strategy to placate the City and Wall Street's constant baying for shareholder value, production companies (as the last stop on the line) need to be confident that we are either robustly solvent or strongly supported by a cast-iron backer. There will be nowhere to hide from that ill wind for cash-strapped outfits as payments become more constipated and margins increasingly anorexic.
To be fair, Sorrell is currently "bullish about the UK" but, in helming the world's largest marcoms group, his overview will always include some regions that are more buoyant than others. At the moment, that seems to be us but, before we get carried away, we should be equally mindful of my second prediction about the growing imperative for us to be competitive on the world stage. It's not rocket science to see that successful agencies have a strong global reach and share the same values and motivations as successful marketing companies.
Being "Little Englanders", something our smaller and aggressively independent production outfits have frequently been accused of, is out of step with the direction world business is moving in. Any English production company not prepared to widen its net – initially, maybe only in Europe but, ultimately, globally either through tie-ups with overseas companies or by actually setting up foreign offices – is a Canute, railing against the tide of history.
Sell to the world
Having worked in New York for ten years [as the worldwide creative chief at Grey], it seemed vital to me we should open a successful Pointblank in Manhattan as well as in London. New York has made me aware of crucial differences on both sides of the pond. First, although US businessmen consider their country as being at the top of the food chain, they are never ashamed to sell to other countries. Global presence and selling the product in the world market is second nature to them. Let's not forget US commercial imperialism single-handedly created the advertising business as agencies opened around the globe after World War II.
Intelligent advertisers are now realising that digital content works better for a brand when it is well-planned, well-cast, well-list and expertly directed
Second, there is a need in the US psyche for figures. SATS, college grades – the whole shebang – train them to base everything on statistics. I would almost go as far as saying that, in the US, if you can't count it, it don't count. Lately, this emphasis on being numerically quantifiable has become a massive plus for the US in a world where big data has replaced creativity as the number-one "must have" on client surveys. As media strategists join with statistical researchers in mining the insights provided by big data, they can target customers with pinpoint accuracy and bring monetising the internet within reach.
Tellingly, one debate I never heard a whisper of in the US is that old chestnut: "Is advertising art?" In North America, it's business, business, business. Production companies routinely use reps, tough knowledgeable reps, who really earn their slice and clients and agencies understand that when a brief goes out it has to be real. Usually, it's a maximum of three bids and payment for directors' ideas and treatments are no longer a rarity.
But my experience as a global creative chief tells me that the UK still has creative kudos and is viewed with respect and admiration. British crew, producers, post-production houses, sound studios and photographers are constantly sought by overseas creatives searching for magic, so why aren't we taking that abroad?
Bring the chutzpah
Another lesson I learned in my former agency group was that a successful modern company must be a blend of business nous and creative chutzpah. Not for nothing were we known as the "Ministry of Advertising". We were respected as financially astute and business-savvy. But, creatively, we stank.
The chief executive and I knew that the survival of the agency demanded immediate change. We introduced a programme for creative improvement beginning with hiring the best creatives, such as Tor Myhren and Nils Leonard. But we also knew that, to change outside perception, we obviously had to change how our creativity was publicly presented.
At this point, the agency was a non-starter in Cannes, which meant we were invisible at the world's most public creative event. So I devised a league table based on Cannes work, pitting all the offices against each other. When we travelled around the network, the chief executive would carry two pieces of paper: one was the office's financial figures and the other how it scored on our Cannes table. Gradually, three mangy Lions a year became a pride of 38 Lions a year. Within five years, we went from dull but sound to the highest new-business winner in the Americas, American Agency of the Year and – with strong performances in other countries, especially the UK – Campaign's Advertising Network of the Year.
Re-engineering production
Some production companies may need this re-engineering, but in reverse. Our creative reputation is admirable but we are not listening to agencies and marketers when they tell us the old financial model is broken. You don't have to be Nostradamus to see the shift to content, and some predict more than 80 per cent of advertising will be online by 2017.
To keep turning over during the financial downturn, production houses produced work on a shoestring, creating an expectation in agencies and marketers that now they would always get dirt-cheap productions. But, ultimately, if you pay peanuts, you get monkeys and the digital world became stuffed with amateur-looking YouTube-style cheapies.
Intelligent advertisers are now realising that digital content works better for a brand when it is well-planned, well-cast, well-lit and expertly directed. When these advertisers demand the speed and quantity expected by today's online audiences, maybe we need to offer new directors who better understand these tighter budgets, capricious demands and difficult briefs but still provide the production values. British documentary-makers, for example, are world-class and used to such strictures. And why shouldn't more photographers provide both the still and moving strands of a campaign? Who knows better how to make cars sexy, food yummy and fashion cutting-edge?
Thinking clients will still pay extra for quality. Yes, they may still shell out for the odd 30- or 60-second blockbuster, especially at Christmas, but to base the future of our business on an old-fashioned model is wilfully blind. Let's think differently, folks – it's a new economic dawn.
In the US, I was always encouraged to end on a positive note. Well, f*** that s***. I'm English. So it's chaps against the wall, chaps – a bad wind's a-coming.

Tim Mellors is the creative partner of Pointblank Productions