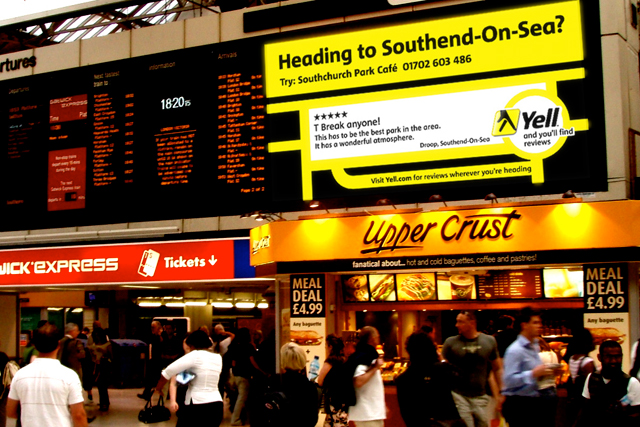 The ads, which rolled out at different stations yesterday evening, showcase Yell.com's local business information and reviews.
The content has been created to match the locality – if the next departing train is bound for Southend at lunchtime, the screen's copy might broadcast, "Heading to Southend? Try Southchurch Park Café."
The digital billboard also displays the business's contact details and a customer review from Yell'swebsite. It signs off with "Yell.com for reviews, wherever you're heading".
The ads will run at stations in London, Liverpool, Leeds, Birmingham, Manchester, Edinburgh and Glasgow. There are a total of 454 different reviews and 31 different destinations.
Ad agency Rapier partnered with digital production specialists Grand Visual to create the campaign, utilising Grand Visuals OpenLoop platform to stream relevant content to the screens.
Dan Dawson, digital director at Grand Visual, said: "Our OpenLoop platform is ideal for realising real-time digital advertising. This innovative campaign is a real step forward in terms of how digital out of home can be used intelligently to provide tactical and dynamic content that is tailored to the audience."
The use of JCDecaux's Transvision screens forms part of a large scale outdoor, press and digital campaign supporting Yell's most recent product innovations.
It will run alongside the 'Day V Lately' campaign to further support the relevancy of Yell products in a modern world. The full campaign runs until 27 March.