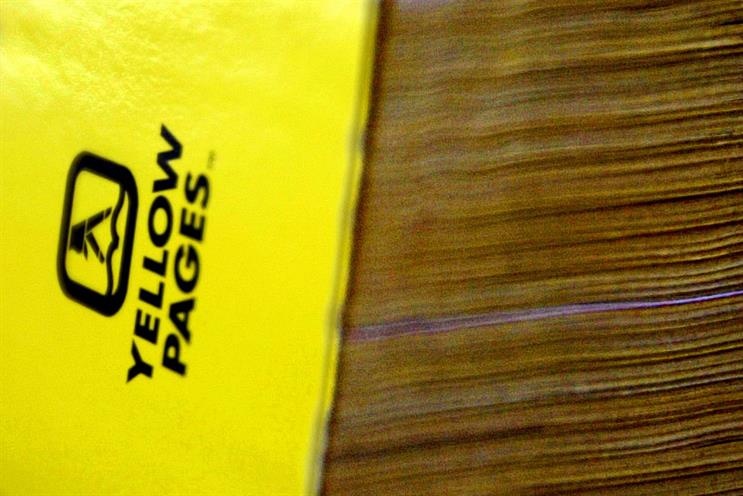 JR Hartley must be turning in his fictional grave. Yellow Pages, which in a classic 1983 ad helped the elderly angling expert find a bookshop selling a copy of his work Fly Fishing, is in serious trouble.
The ad helped Yellow Pages become the UK's biggest listings advertiser. But that was 30 years ago. Last week, Hibu was seized by creditors anxious about its ability to service debts now standing at £2.3 billion, wiping out shareholders, while announcing losses of nearly £2 billion.
It's a stunning decline for a once-illustrious FTSE-listed business. Yell was valued at £6 billion in 2007, when shares soared to more than £6. Those shares sank to 0.2p last week, valuing Hibu at just £4 million. As one analyst jokes: "In 2007, investors hadn't noticed this new search engine thingy called, er, Google."
Hibu's printed directories still account for nearly three-quarters of its global £1.35 billion turnover but look old-fashioned in an era of mobile search. Print revenues fell by more than 20 per cent last year, while digital revenues are not growing strongly enough to offset the print fall.
Born from humble beginnings as a business directory for Brighton in 1966, BT's Yellow Pages directories soon built up an effective monopoly across the UK. Before long, every local business knew they had to advertise in Yellow Pages and its annual revenues started to top £500 million.
With the growth of the web in the late 90s, some entrepreneurs started to spend more time thinking about Google rankings
For three decades, company execs in flash cars visited small businesses and had little trouble convincing them that bigger ads would result in more sales. But, with the growth of the web in the late 90s, some entrepreneurs started to spend more time thinking about developing their Google rankings as opposed to bigger ads in Yellow Pages.
The company did launch Yell.com in 1996, offering an online version of the print product. It has grown to attract 10.5 million unique users a month, but critics say it is insufficiently distinctive from Google.
BT sold off the service in 2001 as part of a £2.1 billion deal and the new owners went on a global acquisition spree, racking up £4 billion in debts just as Google started eating into its market. Denial was in the air when revenues really started plunging five years ago, with the wider recession the scapegoat over digital.
Yell relaunched last year under the perplexing Hibu brand. When the chief executive, Mike Pocock, joined in 2010, he brought in new management and a digital strategy. This involves a hub to help small businesses build an online presence, such as e-commerce and other digital wizardry.
In addition, the company is experimenting with new online formats for linking customers and local businesses. A global ad campaign through Engine is also promised.
So has Yell got a chance in hell? Jon Stephens, the social business design director at LBi, says there is hope in the relationships it has with businesses, particularly the ones lacking in digital expertise.
The new strategy requires Hibu to compete with Google, eBay, Gumtree and a host of long-established business-service websites. It seems like David against half-a-dozen Goliaths. As John Townshend, the creative partner at Now, warns: "Goliath always seems to win these days."