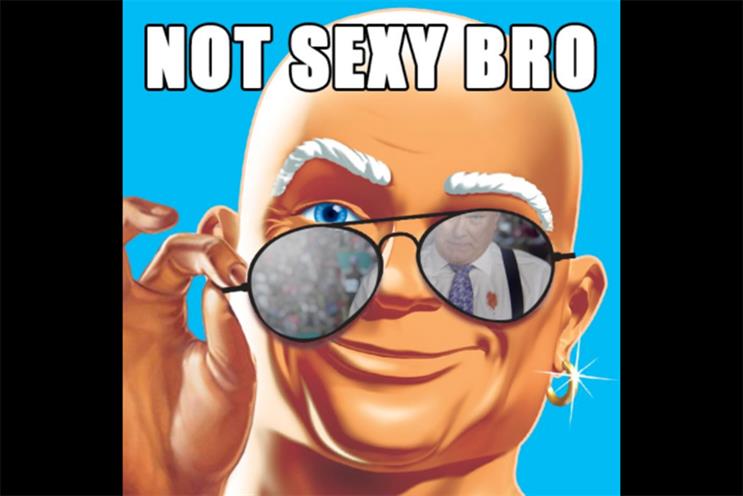 The Twitter fight between Verizon and T-Mobile during Super Bowl LI garnered a lot of buzz, as did Snicker's day-after video, in which Adam Driver apologized for ruinng the brand's live commercial.
But did you know that Honda's agency, RPA, used its big game commercial to good-naturedly embarrass its staff, or that Yellow Tail shared one of the most cringe-worthy videos starring an Australian since "What Women Want?"
The truth is, the more that advertisers use social media to amplify their Super Bowl buys, the more their efforts--good, bad or otherwise--are getting lost in the clutter. Here are some moments you might have missed during the game.
1. Yellow Tail, the first wine brand to broadcast in the Super Bowl in 40 years, tried to give away 4,000 bottles to Budweiser last Thursday in a shameless attempt to piggyback on the much larger advertiser's big game presence. But, as the brand's new mascot—the Yellow Tail Guy—explains in a video posted on Twitter, the plan failed miserably, and he was turned away, truck and all, by a security guard.
"We would love to give each one of your employees a bottle of wine in what we would hope would become an amazing friendship and possibly future partnership," he says in one of the posts. "In these divided times, your beer and our Yellow Tail wine could make for an awesome pre-game, big game party. What do you say?"
The security guard, with his face blurred, shrugs and says, "Can't do it ... You can take the beer tour if you like ..."
Yesterday my adventure started with some sightseeing in St. Louis. Watch to see what happened next. #yellowtailguy #letsyellowtail #sb51 pic.twitter.com/udJDP8WXGR

— Yellow Tail Guy (@yellowtailwine) February 3, 2017
Another tweet shows the security guard tailing the Yellow Tail truck as it leaves the vicinity, and the Yellow Tail Guy asking fans what the brand should do with the unwanted bottles of wine.
Well that didn't go as planned. Now what to do with 4,000 bottles of wine? Share your ideas using #yellowtailguy...maybe we'll do it! pic.twitter.com/SlPXTRxTfP

— Yellow Tail Guy (@yellowtailwine) February 4, 2017
Overall, it seemed the publicity stunt didn't generate much social engagement. Fewer than 30 people liked and shared each tweet about the event. And not only did Yellow Tail not get through to Budweiser, but apparently Australians didn't appreciate the stereotypical way they were depicted in the Super Bowl ad either.
2. One of the chattiest brands on Twitter on Super Bowl Sunday was Mr. Clean. The P&G brand made its Super Bowl debut with an ad that transformed the legendary mascot into a sexy showman, landing the brand in third place for online views. From the start of the game, the brand was eager to engage other brands in some lighthearted Twitter banter. Turns out Mr. Clean has a decent sense of humor to complement his randy dance moves.
Wonder why @Honda didn't use my yearbook photo in their commercial? #MrClean #SB51 pic.twitter.com/tVd1rVf7PH

— Mr. Clean (@RealMrClean) February 6, 2017
.@terrybradshaw! What's up with the stain? Not sexy my bald buddy. #BradshawStain #SB51 pic.twitter.com/EpNtFanw1Q

— Mr. Clean (@RealMrClean) February 6, 2017
.@RealMrClean We're into keeping it clean. pic.twitter.com/BYyomPZB8V

— GoDaddy (@GoDaddy) February 6, 2017
3. Avocados From Mexico also got clever with this tweet to Amazon Echo:
Hey Alexa, can you please ask Buster to step away from the #guac? ???? @amazonecho #AvoSecrets #SB51 pic.twitter.com/ZEtzcMRH1O

— Avocados From Mexico (@AvosfromMexico) February 6, 2017
4. Even some brands that didn't advertise on the Super Bowl tried to hack the social conversations of those that did. For instance, within the GoDaddy and Mr. Clean Twitter exchange, Wrangler Jeans commented with an ad for jeans that give "more room for the balls," and suggested that Mr. Clean should get out of those tight white pants and into something more "comfortable."
Great moves, @RealMrClean. But maybe you'd like to get a little bit more comfortable? ???? #WranglerBallTalk pic.twitter.com/rcn4t6PiME

— Wrangler Jeans (@Wrangler) February 6, 2017
5. GNC's Super Bowl ad was rejected by Fox, but that didn't stop the retail brand from trying to butt into the conversation online. The brand called out Skittles on Twitter, referring to the groundhog from its commercial. Skittles responded with, "Luckily, he said he's going to bring me 6 more weeks of Skittles."
@skittles we've got your groundhog and he's working off all of those carbs now pic.twitter.com/QcI8RgFCJc

— GNC (@GNCLiveWell) February 5, 2017
6. For every fan that tweeted about Busch's Super Bowl commercial, the brand, via creative agency Deutsch, tweeted back with various versions of gifs featuring the brand's new flannel-clad spokesman, and encouraged followers to share the gifs from its Giphy page.
.@CarmenDeFalco pic.twitter.com/locWp0CtFc

— Busch Beer (@BuschBeer) February 6, 2017
7. Budweiser used Periscope Live to broadcast its Clydesdales watching the big game on TV. Some commentators expressed their dismay that the horeses didn't make it into the brand's commercials this year.
It wouldn't be the Super Bowl without the Clydesdales. We're LIVE from their party in St. Louis. #ClydesdaleCam https://t.co/qxz0xF7KNT

— Budweiser (@Budweiser) February 6, 2017
8. RPA, the agency behind Honda's well-received "Yearbooks" spot, which featured celebrities such as Steve Carell, Amy Adams and Stan Lee delivering inspirational messages through their yearbook photos, spent the night tweeting its own staff's high school yearbook photos.
"If the brass ring comes your way, grab it." #PowerOfDreams #HondaPartner pic.twitter.com/ZBVIkdVAry

— RPA (@RPA_advertising) February 6, 2017
9. Verizon's social media team must have been too focused on watching the game, because they commented on a tweet that T-Mobile spokeswoman Kristen Schaal shared as if it were any other customer complaint. In her tweet, Schaal alludes to her "50 Shades of Grey"-themed Super Bowl spot. T-Mobile didn't waste any time in calling out the slip up.
Guys... Verizon customer service just contacted Kristen. This is really happening...#TheSafeWordisUnlimited pic.twitter.com/dZ9TubCca1

— T-Mobile?? (@TMobile) February 6, 2017