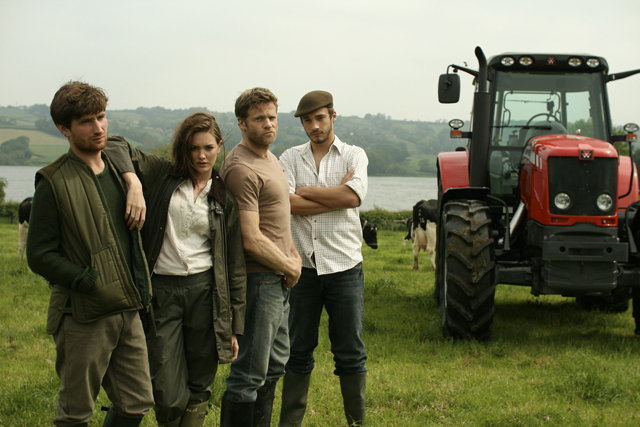 The activity, by Bartle Bogle Hegarty, was judged to have pushed the boundaries of marketing excellence by demonstrating insight, effectiveness and innovation. Yeo Valley used a high-profile slot during The X Factor to debut its ad and followed this up with a digital media campaign to build deeper engagement.
The TV component, a two-minute spot featuring four rapping farmers, caught the nation's imagination, clocking up nearly 2m views on YouTube. In the three months following the campaign's launch, Yeo Valley generated an incremental uplift in sales of more than £3.5m.
Another winner at the event, run in partnership with Marketing, was the youth homelessness charity Depaul UK, for its iHobo app, devised by Publicis London. The Tamagotchi-style iPhone app, which allows users to care for a fictional homeless man and donate to the charity, won the Leading Edge Thinking, Not-for-profit Marketing and Marketing on a Shoestring categories.
Craig Inglis, director of marketing for John Lewis, was named Marketer of the Year for 'making a demonstrable diff-erence to the business', while Rebecca Brock, marketing controller at Homebase, won Young Marketer of the Year.
For full details of the winners see below:
Marketing Society Awards for Excellence 2011: Grand Prix
Marketing Society Awards for Excellence 2011: Marketer of the year
Marketing Society Awards for Excellence 2011: Young Marketer of the year
Marketing Society Awards for Excellence 2011: Leading-edge thinking
Marketing Society Awards for Excellence 2011: Long-term marketing excellence
Marketing Society Awards for Excellence 2011: Brand revitalisation
Marketing Society Awards for Excellence 2011: New brand
Marketing Society Awards for Excellence 2011: Brand extension
Marketing Society Awards for Excellence 2011: Marketing organisation
Marketing Society Awards for Excellence 2011: Digitally led marketing
Marketing Society Awards for Excellence 2011: Mobile marketing
Marketing Society Awards for Excellence 2011: Customer insight
Marketing Society Awards for Excellence 2011: B2B Marketing
Marketing Society Awards for Excellence 2011: SME Marketing
Marketing Society Awards for Excellence 2011: Marketing on a shoestring
Marketing Society Awards for Excellence 2011: Not-for-profit marketing
Marketing Society Awards for Excellence 2011: Ecommerce
Marketing Society Awards for Excellence 2011: Marketing communications
Marketing Society Awards for Excellence 2011: Global marketing
Marketing Society Awards for Excellence 2011: Employee engagement
Marketing Society Awards for Excellence 2011: Customer relationship marketing
Marketing Society Awards for Excellence 2011: 360 degs marketing
Marketing Society Awards for Excellence 2011: Cause-related marketing
Marketing Society Awards for Excellence 2011: Marketing for sustainable consumption
Marketing Society Awards for Excellence 2011: Sponsor's statement - Celebrate team spirit
Marketing Society Awards for Excellence 2011: Judges - Main panel