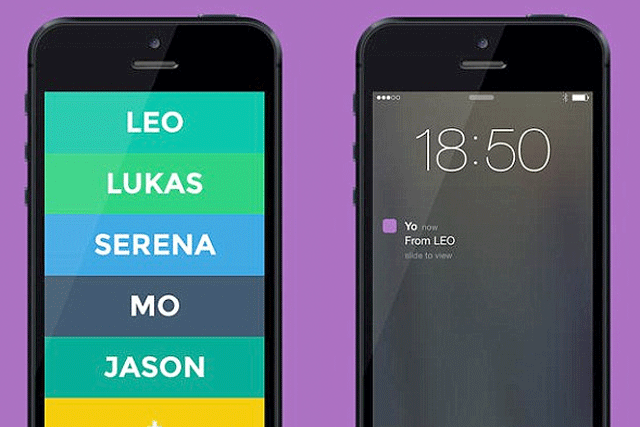 The app's Israeli inventor Or Arbel has moved to San Francisco to open an office and is hiring staff as he seeks to position his Yo app as a "context based communications" service that he claims is the future of messaging.
Yo is available for free on Android and Apple smartphones and has received a four star rating on the Google Play store and over 5,000 downloads.
It describes itself as "the simplest and most efficient communication tool in the world".
In an interview with Think Progress, Arbel described it as a "context based communications" app because the users understand what the Yo means "based on who you get it from and when you get it".
Arbel claims brands could get involved in a number of ways including Starbucks using it to let customers know when their order is ready, airline Delta informing people when their friend's plane has landed, and Gap informing people when they have a sale on.
The $1m investment in the app has reportedly come from a group of investors linked to Moshe Hogeg, the chief executive of Instagram-style social network Mobli.
The limited nature of the app has raised eyebrows among some, with many of the reviews dripping in sarcasm.
One review from Brooke Hirsch on the Google Play store, explained: "This app is amazing. It changed my life. I used to have a terrible relationship with my mother. We would never communicate in such a very heartfelt manner.
"After the discovery of Yo, I have the relationship with my mother that I've always aspired to. At last, she knows truly of my inner most feelings. We are so close, now. Everyday we Yo. Every minute. My life is amazing, now. Yo has changed my life forever".
News of the $1m investment is also going viral with one Twitter user joking Facebook going offline this morning was a result of Yo's success and the failure of Facebook's Poke app.
Zuck: What is Yo? FB employee: It's like Poke, but…actually it's Poke. Zuck: I give up. Shut the whole thing down. pic.twitter.com/JEsIF8sywA

— Ben Thompson (@monkbent) June 19, 2014