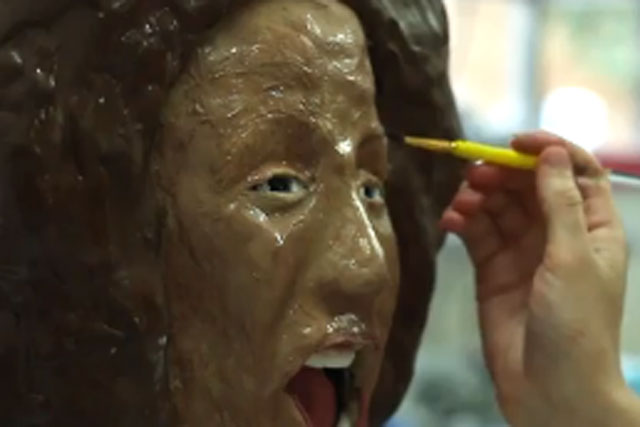 As part of its marketing to celebrate Yorkshire Day, the Taylors of Harrogate tea brand has made cakes shaped like the heads of five celebrities.
A film of the making of the Mel B cake has been posted on YouTube. Mel B (or Melanie Brown) is originally from Leeds in West Yorkshire.
The heads are on show today at King's Cross station, the London terminal where most trains heading to Yorkshire set off from.
Yorkshire Tea's in-house marketing team conceived the activity and a longer film will be uploaded online next week.
Meanwhile, the high-end countryside clothing brand Barbour tweeted its congratulations to its "friends" at Yorkshire Tea.
Happy #YorkshireDay to our friends at @YorkshireTea. We raise our tartan mugs to you! pic.twitter.com/ZNlVFy9Acb
— Barbour (@Barbour)
August 1, 2014
The V&A Museum also got into the act, tweeting a picture of a 19th century tea pot in the hope that Yorkshire Tea would send it some tea bags.
Happy #YorkshireDay! @YorkshireTea, any chance of some teabags to go in our circa 19th century Yorkshire teapot? pic.twitter.com/Uc1SwugmfN

— V&A (@V_and_A) August 1, 2014