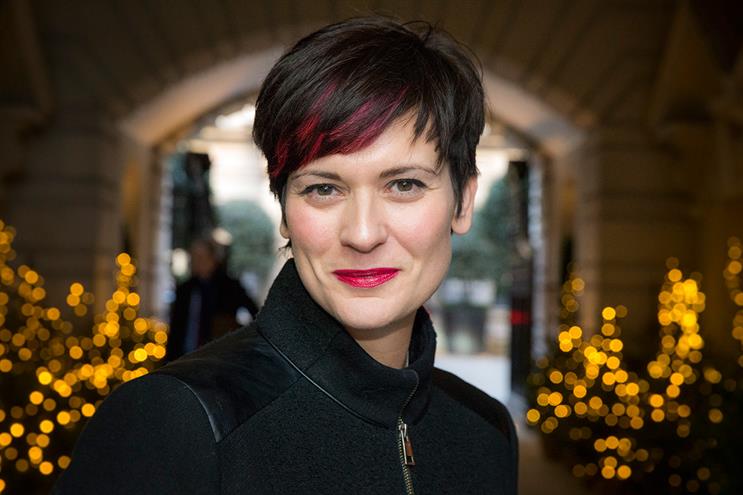 Who are the industry's biggest boundary pushers, the ones who have really made a difference? And who do they most admire? In association with The Trade Desk, we invite the biggest industry names to interview their boundary-pushing peers – and pass on the baton, in an interview relay.
In the previous instalment, Chris Forrester, UK country manager at Spotify chose Verica as his boundary pusher. Now he speaks to her…
With a degree in English from Cambridge, what made you join media?
I have been asked this many times – it was really unusual at the time. I was very interested in TV production and media and the creative side of programming, journalism and writing – and as it happened, by lucky coincidence, a friend of a friend's brother worked for a media agency. At the time I wasn't sure what a media agency was, but they had a grad scheme, which I took advantage of as I was finding it hard to break into TV production. There it's all about working for free and who you know. So I gave the graduate scheme a go despite being more interested in the creative side.
What gets you out of bed in the morning, has it changed over the years?
I'm motivated by being part of a team and being surrounded by people who bring different perspectives – the chats and the exchange of views. People who are inspiring and who you trust enough to have a robust debate with.
What skills do people entering the industry need now that you didn't?
It's a destination industry nowadays – perhaps because more people are aware of it. The real skills required haven't changed over the years. It's about attitude, mindset and those that have the aptitude to look up and out more. In a data-driven world, people need to be able to step back and put it into perspective. People who are curious about how to glue the whole thing together are necessary. You have to look at the role of comms and what that's going to do for your client.
What keeps you awake at night
As a company, we've grown by 20% in the last year – it's a big jump. The question at the back of my mind is: "How do you keep the essence of the culture in the business while you are still growing? How do you keep the sense of team and family that gets people coming back?"
When's the last time you thought 'oh shit' and why?

We have just had a big building refurbishment and because the MD has such a broad role, I am the ultimate decision maker. We were about to unveil the new reception area and I thought we had used the old logo. As it turned out, it wasn't but because the change was so minimal, at first glance I thought I'd made a mistake. After that, I realised I need to have 360º-vision.
Do you enjoy the MD role as much as others you held?
I do. The first six months were slightly bewildering, you are in charge of the way the business is run and everything at some level crosses your desk at some point. It's a pure general management role. I have learned an enormous amount, which makes it both enjoyable and challenging.
What does good look like – and when does good become great?
From an agency perspective, 'good' is delivering what the client wants at the highest level – 'great' is adding something extra. "Great people think that great work is only good" – so what you get is people pushing hard to take it to the next level – there's a constant sense of striving. Recognition for us is part of the culture – we don't set the standards publicly, it might be a small thing that we champion – it might be a little nudge or change in the process that really makes the difference. Great doesn't have to be massive. It can be very small and day-to-day. It's about allowing people to find easy ways to make things great.
How much pressure do you feel as a leader if you have had a great year?
I don't pay much attention to it. I focus on building strong client relationships. We answer client problems, not creating work to win awards. We aren't targeted on awards. Each year I look to see how we can forge deeper, more effective relationships with clients. Great work comes as part of that.
Who's your inspiration?
I am so lucky that through my media career I have learned from some exceptional people. I have had a number of fairy godparents who have inspired and guided me. I have also had brilliant mentors, most of whom were senior women, which was coincidental
Where are media-agencies heading and what needs to be done, if anything?
This is really about focus. Over the past few years, there's been a proliferation of areas the agencies have moved into. They need to stop that and re-focus on the core issues. That's consumer behaviour and building exceptional relationships with the consumer.
We're in uncertain times, how do you keep the team focused and motivated?

You can't anticipate the changes in the market but you can set out your stall as a business. You have to keep explaining your journey and bring people along. You cannot be ambiguous. Everyone from bottom to top and top to bottom must know the plan, purpose and goal of the business. You may not have all the answers but as long as you are thinking about the questions, it reassures people.
What's the one lesson you've learned this year – one you tell clients?
To trust your instincts. Your first response to something in times like this is nearly always the right one.
Same client wants to know what's the game changer in 2017… Tell me.
Looking up and out. You have to incorporate all the data, but you need to be distinctive and create stickier campaigns. There is an efficiency and effectiveness that comes with programmatic – the data provides a richness, but it's about taking the learnings from the data and applying it. Buying is an important part of that, but the insight and opportunity will be the game changer next year.
What did you want to be when you were young?
I wanted to be a TV presenter or make programmes. I wanted to be a news reader but my absolute hero was Judith Hann from Tomorrow's World. She was amazing and did lots of interesting things.
If you could have anyone else's job who's would it be?

I would love to do the voiceover for Masterchef: The Professionals – I did a voiceover training course earlier this year.
What was the last piece of career advice you gave?
Very few people know what they want to be and have a proper plan sketched out. Navigate your next move by what you DON'T want to be or do.
What's next for you?
2017 is about being bigger but also striving to be better, in how we work with clients and and keep our culture thriving – so what does better as well as bigger look like?
---
About The Trade Desk
Recently named seventh on the Deloitte Technology Fast 500, ninth in Forbes Magazine's Top 100 List of America's Most Promising Companies and #34 on the Inc. 500,The Trade Desk powers highly sophisticated buyers in advertising technology.
Founded by pioneers of real-time bidding, The Trade Desk has become one of the fastest growing demand-side platforms in the industry offering agencies, aggregators and their advertisers leading-edge technology to manage omni-channel advertising campaigns.