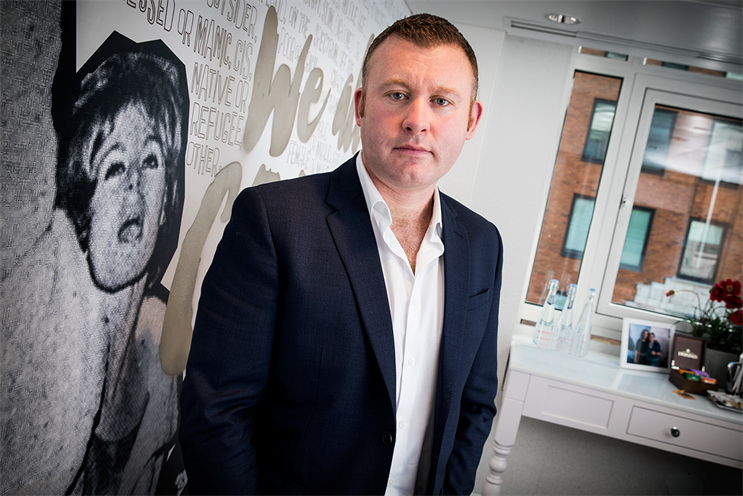 Who are the industry's biggest boundary pushers, the ones who have really made a difference? And who do they most admire? In association with The Trade Desk, we invite the biggest industry names to interview their boundary-pushing peers – and pass on the baton, in an interview relay.
In the previous instalment, Mean Broadcast's managing director, John De Napoli, chose Mediacom's chief commercial strategy officer, Phil Hall, as his boundary pusher. Now he speaks to him…
What made you get into the media industry?
I needed to get a job! I had no plans to enter the industry at all. I didn't even know what it was before I started working in it. I'd just come back from university and saw an ad in the Guardian to work for TSMS. I did a bit of research, turned up and started from there, in the airtime management unit. It was a really good starting place.
You've been at Mediacom for 16 years – what makes it the place for you?
It has changed beyond belief in terms of size and client base, which has made it really interesting. It was a relatively small agency and it's growing really fast. Since the early days, we've had a culture which is if you can find a way to add value, if you spot an opportunity, you can do it. People rally around you to support you, and there's no politics – which makes it refreshing, and makes it a place where you can actually get something done.
What qualities make a successful director and which of these do you have?
The obvious things you need to be successful in any role are self motivation, problem solving, curiosity, and refusal to accept the norms. The nuts and bolts of this business haven't actually changed – it's everything around the edges. I think the people that can challenge the norms, and say there's a different way of doing things – executing a campaign or selling a product – are really succeeding at the moment. Collaboration has never been more important. If you're an expert in a disconnected silo then you're less than half as effective as someone who is perhaps less talented but is really connected into the business.
What keeps you motivated and interested?
Two things keep me motivated. Our business is diversifying and growing, and at Mediacom we're always looking at ways we can get involved in different things outside of the day to day planning and buying of media. If we can look to add value for clients in other ways and take advantage of all the change, that's really interesting work.
The second thing is working with really talented people. It's an amazing thing to help someone build their career and fulfill their potential. I've had people work for me who've left – such as Simon Broderick who's at MediaCom APAC, and Naomi Harston who's now at Google – who've gone on to have brilliant careers. There are people in my current team who will go on to run big businesses in media and it's fantastic to be a part of that.
Who do you admire on the sales side of the industry?
I really like people that can adapt their sell to suit our clients and our business. People who work in a more collaborative way will get a lot more out of media. Sales companies can be relatively small in their sector but really punch above their weight by working more innovatively. I admire the way that Nick Bampton ran that team at Channel 5, the way that Tim Bleakley at Ocean sets up his business, and Chris Forrester – to whom I'm passing on my baton. These are people that haven't always worked at the biggest places but have really engaged with customers and clients, and thought about how they can adapt their sell.
What's going to happen for TV trading, radio and online in the next few years?
Programmatic and automation is the obvious answer. It's happening now, and at a fast pace which is only going to accelerate. I think you're going to see a two-tier system of trading where the bulk of the inventory is traded in a programmatic way, and then the icing on the cake is traded in a more traditional way, which is less data driven and more about brand equity. I think it's an incredible opportunity.
The mistake a lot of people make in the industry is thinking that with automation will come a de-skilling of people and less need for talent. I think the opposite is true. Since the industrial revolution people have been saying that more automation and mechanisation means the need for people will become less and less, and it has never been true. If anything, agencies will grow, taking on different sorts of people.
It's clear that some of the old skills are less valuable now. We need new ones to succeed, including the ability to be collaborative, and take complexity out of buying, translating the processes back into client-friendly language.There's too much technical jargon in our business, which is disguising what people are trying to achieve. People who immediately default into jargon, and can't properly vocalise what they are trying to do, probably don't understand it. You need, for want of a better word, 'interpreters' within the business.
Media agencies have traditionally pushed through and promoted people that are technically excellent at what they do. That's fine, but increasingly we're valuing the skills of more t-shaped people – generalists who can bring together different parts of a team and can hold it all together to deliver a result back to a client. That's a valuable and vital skill which you didn't particularly need in media agencies five or six years ago. In the past, it's always been that the trading people could sit in their silo and deliver great results. That's not enough now. You need diversity of thought and diversity of experience. Those people harnessed together, working collaboratively, will be the key to success.
How would you go about attracting that new talent?

You've got to be very clear in your direction. For people to really succeed in my team they have to have a curiosity and a desire to help the rest of the business. Go out and see what the planners are talking about, what the content specialists are talking about, talk to data people, and think about your specialisms and how they can enhance the whole. If you sit there in a silo, you're not adding value.
What's your advice to an up-and-coming Phil Hall?
Do something you enjoy. We spend lot of time and put a lot of energy into the job, so you've got to enjoy it. Find somewhere where there's a culture of identifying and fast-tracking talent and ideally a supportive boss. Work out how to add the most value to what you do, and just hurl yourself into it. That's got to be your ambition, to find something where your success is in your own hands.
What's the next big thing in media?
It's the thing it's always been: people. It's about talent and people and harnessing them in the right way. Our industry has always been and will always be about people. Digital, programmatic, and content are inherently important, but if you haven't got a well-managed and motivated team which is creating something different to service a client's business, you will never truly succeed.
What's next for you?
I've just started a new role here which is really exciting, and I've been working towards that for last 18 months. It's a more strategic role, looking at the commerciality in our business and looking at how we can create new products to help clients and media owners, and work in more interesting ways. Beyond that, I'd like to run a media business one day. I think that's where my career is leading and what I enjoy doing. Whether that's agency or sales I don't know.
The progress I've made over last few years has been a result of really enjoying what I do. Karen Blackett gave me a great bit of advice four or five years ago – she told me if I ever have three months in a row where I'm not enjoying my role I should go and talk to her before getting downhearted or starting to look elsewhere. I now give that advice to other people. Everyone has bad months and stress from things out of our control. But three in a row and there's more likely to be a problem. I've never had three bad months in a row.
I want to keep enjoying my job and keep making a real difference at Mediacom and in the industry, getting more experience working in senior management, and working with talented people out there to create new, different ideas for clients.