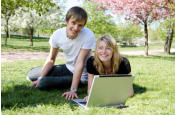 Research by MTV and Microsoft found that the average 14- to 24-year-old claims to have 50 friends, nearly one-third of whom they communicate with solely via the internet. The finding underlines the changes brought about by digital social networks. Young consumers have an average of 83 friends on MySpace, as well as 86 instant messenger 'buddies'.
However, when given the option, most young people would rather not use technology to communicate. When asked how they prefer to keep in touch, 53% chose face-to-face communication, with 23% opting for text messaging. Social networks were preferred by just 2%. Use of sites such as MySpace declines as teenagers grow old enough to go out on their own with friends.
Indeed, young consumers show little interest in technology itself. When asked what they
enjoyed doing, the top answers were listening to music, watching TV or DVDs, and spending time with friends. Surfing the internet ranked only ninth.
Click here to read feature New gadgets, same teenage kicks