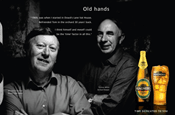 The ads, devised by Young Euro RSCG, reveal the tales and experiences of two workers from Clonmel, County Tipperary, Ireland.
They attempt to show how the company is serious about its traditional production methods.
Scott Fairbairn, the marketing manager at Magners, said: "This campaign is all about the faces and characters behind-the-scenes, who have witnessed the evolution of the Magners brand and have some truly enlightening stories to share."
Posters will be placed at Oxford Circus and Angel Tube stations in London, and the radio ad will air on Virgin Radio over the Bank Holiday weekend.
The media agency MPG was responsible for all media buying and planning.