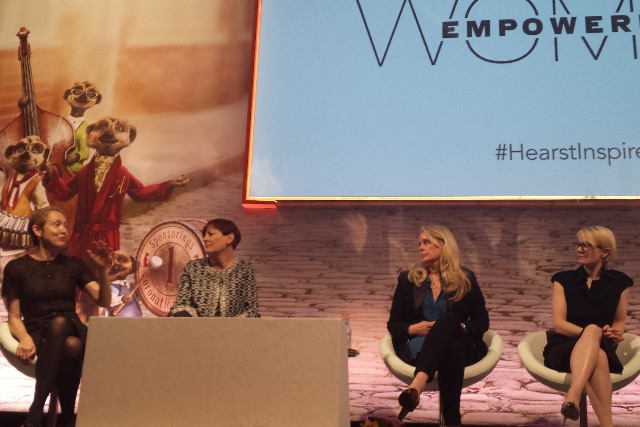 Harper's Bazaar editor-in-chief Justine Picardie explained that the print magazine was a vital part of the title, as its readers needed to get away from screens. But this wasn't a need solely focused on older generations.
"Our readers are professional women, they all work, and they associate the digital space with work. They are looking for true relaxation and luxury. And what's the biggest luxury for them? Time. They read books, Harpers Bazaar, go to the V&A.
"I find it heartening that their world is not just about living in this space that's centred around virtual communications."
Millennials need live experiences, too, she added.
"The younger generation also loves real experiences just as much as we do. My son is the guitarist in Bombay Bicycle Club. Online gave them an audience, but it was playing live that has made them famous. I think it's fantastic that more people than ever are going to the V&A.These live experiences are crucial."
Feminism in fashion
All the panellists staunchly defended the role of women's magazines in the feminism debate.
"Women want a voice; this is the year of the election and women will swing the vote," said Lorraine Candy, editor-in-chief at Elle.
"There is still an idea that women are just taking selfies and photos of things they've bought. But the media is helping to change her voice and giving her that voice. Having a voice is what they're interested in.
Picardie said she was angered by the sexist attitude against the role of fashion in the debate.
"If you look at the history of fashion [leaders] - from Coco Chanel right up to Stella McCartney today - then the marginalisation of fashion makes me really cross. It's a bit like saying, 'you like opera so you can't be interested in politics'.
"Fashion is dismissed as frothy, irrelevant fluff. How often do we see a really intelligent debate about fashion on Newsnight? It's outrageous and it's absolutely wrong that it's not explored in the wider arena," said Picardie.
Good Housekeeping editorial director Lindsay Nicholson added: "Both cooking and fashion are enormously important subjects that women's magazines have been brilliant at presenting.
Newspapers are now wholeheartedly hijacking both these areas, asking, 'why are people reading these magazine still? Damn, I'll have some of that'."
Nicholson also touched on the issue of age diversity. "Women in this country fall off a cliff at 40. Older women are not seen in the national conversation. At Good Housekeeping we also take interns who are women wanting to change careers later on in life."
Follow live coverage of Advertising Week Europe on LIVE@AdvertisingWeek