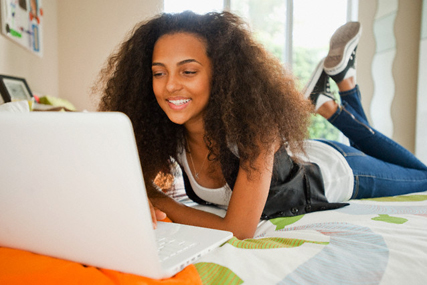 Researching younger age groups has never been easy. The typical teenager has always been difficult to engage with, unreliable and uncommunicative, which has led to difficulty in recruiting and low response rates amongst younger respondents for market research.
However, what is new today is the advancement and use of new technologies.
New ways of communicating and accessing content are evolving every day and younger age groups are voracious adopters of these new technologies.
We have drawn on a number of studies from across Ipsos MORI, including our qualitative Youth In Transitions study, our Technology Tracker and the IPA's TouchPoints study to provide us with an in-depth understanding of those aged 16-24, how they engage with new technologies and how we can, as market researchers, ensure that this elusive group continues to be represented in our studies.

Natural Techies...

Those turning 16 in 2012 were born in the same year that Take That split, when people talked about the world wide web without a hint of sarcasm and when the biggest search engine was AOL.
The pace of change within their lives has been at a lightning speed; they have grown up in a world where content is currency, where their lives are planned via social media and where there is no such thing as 'going online', more a seamless world where online and offline don't exist.
The youngest of the 16-24s now inherently understand which email address they should have, which messenger service is the must have of the moment, that their online activity defines who they are and which phone they should be using.
They are often fickle and tastes change quickly; we only have to look at the decline (and now possible re-birth?) of MySpace as evidence of this.
They are also adept at multitasking - often seen checking their Facebook accounts while having a conversation or tweeting while watching their favourite television programme.
Market research needs to be designed with all of this in mind. We are competing for the time of those who have incredibly short attention spans and who are used to consuming information in bite sized chunks.
Our design skills need to be up to this challenge with clean, clear and succinct survey tools.
Always connected...

While we all know that internet access has risen steeply over the past ten years, with over eight in ten of all UK adults having access to the internet, the younger generation are considerably more connected than other age groups.
Over nine in ten of those aged 15-24 have access to the internet, over two thirds have a smartphone and over half use their mobile to access the internet (Ipsos MORI Tech Tracker, October 2011).
This 'always connected' mentality has led to a feeling amongst 15-24s of having to be at the right place at the right time, accompanied by a feeling of panic that, if they aren't connected, they will be left out of the next big event with their friends.
Events, status updates and news are like addictions. The internet - especially via mobile - enables this: 20% of 15-24s on TouchPoints3 said that one of the main reasons they use the internet is to organise their social life, while 72% cannot imagine their lives without their mobile.
Communication conventions are also changing, with a preference amongst the younger age groups for short, mobile, free and one-to-many messaging.
Email, texting or calling is beginning to be viewed as formal, to be used with parents or work.
While market research should always respect the privacy of those taking part in projects, we should also try to be agile and adopt new ways of taking part in conversation with respondents. We should give options to contact people in ways that are convenient and natural to them, not us.

Instant and on demand

Although it is true that the younger age groups are still watching television and reading magazines, they also now have an expectation that they can access content whenever and wherever they want. On demand is a key part of their lives, across all media.
For example, according to TouchPoints3, around three in ten of 15-24s listen to radio on their mobile at least once a month compared to just over one in ten of those aged over 25.
Around a quarter of 15-24s watch BBC iPlayer more than once a week compared to less than one in ten of those aged over 25.
They are used to accessing content and information on demand and in ways convenient to them; market research should be no different.
Being social

Social networking is a huge part of the lives of young people. TouchPoints3 found that eight in ten of those aged 15-24 visit social networking sites at least once a week, compared with just over a quarter of older age groups, and they spend an average of an hour on social networking sites every day.
They are also huge mobile users of the sites; half are visiting social networking sites on their mobiles. Younger age groups are still, for the time being, avid fans of Facebook.
It is a central part of their lives and meets a wide range of youth needs: organisation, learning, entertainment, combating boredom and identity shaping.
However, with Facebook moving into the mainstream and older segments growing the fastest within the platform, we also see some criticism of the site from the younger age groups on a number of fronts:
Firstly, the lack of separation between family, friends and other social groups has led to social blunders.
Where the main objective on Facebook was once to build up a large network of friends, this can now lead to dissatisfaction with the site as posts become too frequent and distance between 'friends' too large.
Tastes change quickly. We need to keep adapting our methods to suit the market, becoming more flexible and agile, if we are to engage respondents.
Final thoughts

There is no doubt that technology is transforming the way we live our lives today and this transformation is even more marked amongst the younger age groups.
As market researchers, we will be competing with social media, mobile apps and new technology for the attention of an audience which is notoriously fickle with a short attention span.
As an industry, we need to ensure that we:
Keep the message simple and clean: Research needs to be simple yet well designed to ensure that we keep attention and engagement.
Value loyalty: Incentives will be key for young respondents, whether monetary or based on content.
Communicate appropriately: We need to immerse ourselves in the world of those that we are trying to engage with. Working on a permission basis, we need to adapt our methods to talk to them using means with which they are comfortable and be as agile as possible, always seeking to ensure that we are working in a way that suits participants' needs.
It's all about mobile: As an industry, we need to ensure that we work harder to make mobile work for us. With the introduction of 4G over the next few years in the UK, mobile will become more and more important as a device. Ipsos MORI has been working on a rigorous research and development programme for the past few years and will continue to ensure that mobile is used in innovative, yet appropriate, ways.
Sarah Gale, senior director, Ipsos Mori