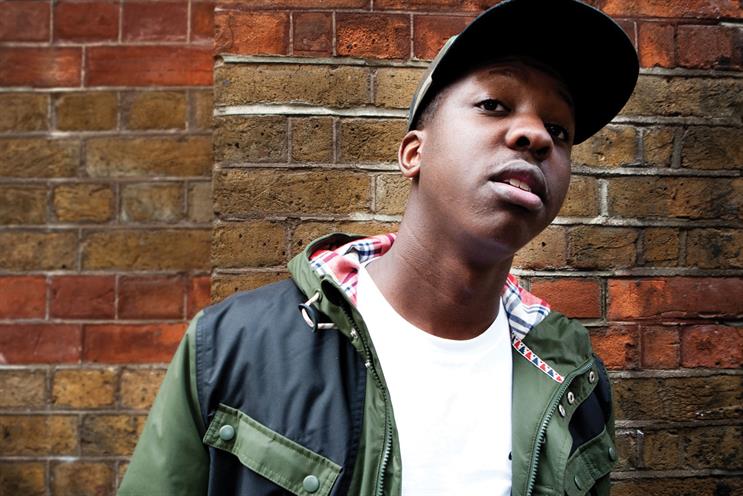 When Jamal Edwards breezes into the Hospital Club in Covent Garden 30 minutes late for his meeting with Campaign, he unapologetically explains that he has come from Heathrow. He has been prepping for some promotional work he is doing around the launch of the video game Call Of Duty: Ghosts. As a young man who has singlehandedly built up a digital media business – SB.TV – Edwards works to his own timetable.
Since starting off making videos with a camera he received for his 15th birthday, Edwards has established SB.TV as one of the leading youth media platforms in the UK, with more than 368,500 subscribers on YouTube. Although the Google-owned video site currently forms the bulk of the business, SB.TV is looking to build on its own website. To this end, Marc Boyan's Miroma Ventures took a minority stake in the company last month, valuing it at £8 million.
SB.TV, named after Edwards' rap name Smokey Barz, began as a way for him to share the videos he was making of his friends freestyling. He says he did not plan to turn it into a business; that it "just sort of happened". Since it has, though, he has embraced it. On his YouTube channel, Edwards works with the specialist video network Base79, which was founded by Ashley MacKenzie, son of Kelvin, while Sbtv.co.uk is represented by the youth sales house W00t! Media.
Edwards was part of YouTube's own upfronts-style event, Brandcast – for branded content opportunities – in October. He wants a brand to be fully integrated in SB.TV's quest to discover new talent in the US under the banner "Stateside Breakthrough". Edwards says he is offering the chance to align "with a talent platform that breaks talent that's not X Factor but in a much more grassroots, credible way". Base79 is currently speaking to agencies about the opportunity.
Stateside Breakthrough will build on the content SB.TV has already created for brands. Edwards has interviewed stars such as Rita Ora about the importance of self-belief for the Government's training programme, National Citizen Service, and produced a video series with another YouTube star Colin Furze and J2K, a rapper and inventor, for Pernod Ricard's flavoured vodka Oddka. Such content is promoted and optimised (through "tagging" and "analytics") with the help of Base79, which manages 1,500 YouTube channels.
The Brandcast opportunity coincides with brands and agencies getting more and more interested in creating content. Charlie McGee, a group trading director at Aegis Media, says brands are looking to collaborate with content producers that are authentic. "Brands are looking for genuine talent," McGee says. "They do want to collaborate, but it has to feel genuine. Not everyone's doing it, but demand is on the up; we're definitely going to hear more of it."
Even as just a YouTube channel partner, SB.TV is probably already bringing in hundreds of thousands of pounds in pre-rolls. We cannot be sure as Edwards is still the majority shareholder and small-company exemptions mean it only reports abbreviated accounts. But whatever his official revenue, Edwards has been able to tell his mum he told her so. "She didn't get it [at first]," he explains with a laugh. "She was like: 'Stay in Topman, it's a steady income.'"
It is not just about making money either: Edwards is looking to help other young people. He wants to branch out beyond music to other channels (fashion, games, gadgets, business, comedy and sport) and engage young people in politics. "The reason youth clubs get shut and EMA [Education Maintenance Allowance] is abolished is because young people don't vote," Edwards says. "I feel like, as I have a large following, 'How can I make them engaged in a cool way?' So that's what I'm doing."
Youth clubs get shut and Education Maintenance Allowance is abolished because young people don't vote
The investment from Miroma should allow SB.TV to expand into those new channels. "SB.TV needs to look at the next phase," Boyan, who knows Edwards' mother, the singer and X Factor 2005 contestant Brenda, explains. "We hope to grow the SB.TV platform. It has 200 million views, with no overheads. If we had five or six verticals, that would be a billion views.
"We are hopeful that it will be as big, if not bigger, than Vice. Jamal is inspirational to young people."
Edwards is a passionate and engaging man, committed to developing his business and helping others. At 23, he has already achieved so much, and counts Sir Richard Branson among his mentors. By appointing a managing director and business development person, he hopes SB.TV will become a fully fledged media business. And, after attending the Media Week Awards last month, Edwards wants to be there as a nominee in 2014. You would not bet against it, though he might be a bit late.